3-D Printed Wooden Furniture
16.10.2013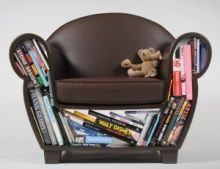 Now, why didn't I think of that? Handcrafted solid wooden furniture has always been on the expensive side because it lasts a long time and carries a consistent demand from homeowners and contractors. The high costs come in the form of experienced craftsman as well as good quality wood.
The latter half of this century has seen the prevalence of cheap furniture such as plywood, powdered varieties, wood look-alikes, and metal furniture that have taken some share from the traditional furniture business. There are not as many craftsmen as before, and this has made wooden furniture even more exclusive, thus increasing costs further.
Samir Shah, founder and CEO of 4 AXYZ, is looking to enter the furniture business through 3D printing wood. At least one of the factors that make up the high costs can be significantly reduced.
"Effectively what you're seeing is solid wood furniture is too expensive and quality is dropping. We have something that is not rocket science, even though it is patent pending," Shah said to Gigaom. "You can make [furniture pieces] to North American standards, and we can deliver them within 15 days even if they were customized by the customer."

Besides, the complexities affecting a normal human worker is pretty much nil while employing a 3D printer.
"The more complicated it is, the more expensive it is. It wastes more material and more effort. Our machine would reduce the number components substantially. The more complicated it is, the cheaper it gets with our process," according to Shah.
According to the report, Shah said the secret of the business lies in the technique that is used to cut and layer the wood together. Currently on the road looking for investors, he expects the company to ship out its first model within 6 to 8 months, provided the funding.
Other designers have tried their hands on 3D printing furniture. Have a look at the unique designs on shapeways, for instance, that will make you think twice before sitting on one. If you can think of it and sketch it, with 3D printing, you can make it.
3D printing can also build prototypes before manufacturing the final sets. Have a look at this extraordinary collection of designer chairs made from recycled refrigerators and other futuristic models here.