CAD CAM systems in dentistry
03.10.2019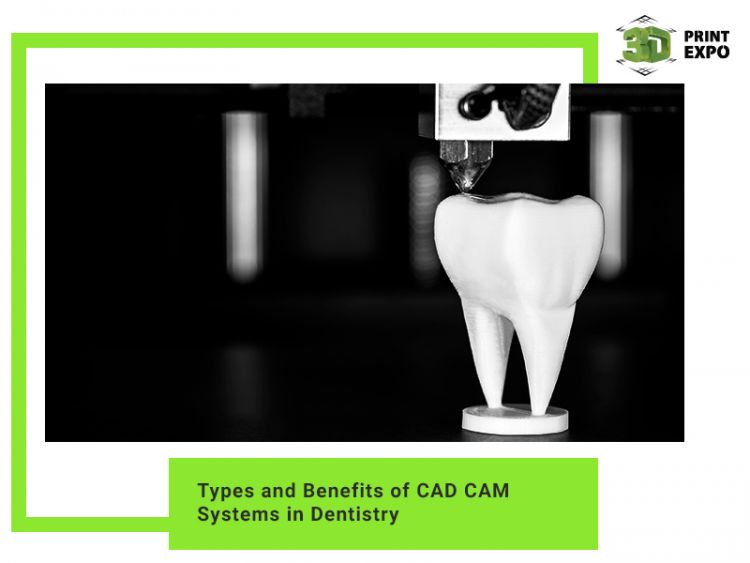 Systems for designing and producing CAD/CAM objects are used in various industries, including healthcare and dentistry. They allow to model objects with anatomical accuracy and make them according to individual parameters. What are the features and potential of CAD CAM systems?
CAD CAM characteristics
CAD CAM technologies are useful in any sectors where one should create objects by modeling and further embodying into a material item. CAD designs objects, while CAM transfers data and creates a final item.
This digital technique is applied in modern dentistry requiring the precise and prompt production of teeth for patients. Additive technology software for different fields will be introduced at the seventh 3D Print Expo.

CAD CAM advantages:
design of objects of any complexity;
simple and seamless scanning;
the rapid creation of orthopedic items;
three-dimensional modeling due to individual parameters;
the fast production using CNC equipment.
This method is applied to make tooth crowns, veneers, and many other options of denture treatment. Technologies help to act quickly and more accurately than while working with pickup impressions and casting, as well as to choose among a greater amount of materials. Dental labs and modern clinics utilizing CAD CAM in dentistry obtain a huge competitive advantage because of serving customers quickly and properly.

Firstly, patients are comfortable with scanning and crowning. Secondly, a single visit to a dentist is enough to produce and put a denture on.
CAD CAM programs for dentistry
There are several cutting-edge programs allowing dentists to apply additive technologies in their operations. Let's examine the most popular and convenient ones.
Exocad Dental CAD
It is one of the most in-demand programs speeding up the treatment process and helping to prepare implant replicas. It is open-end and compatible with numerous types of equipment.
The software was developed in Germany in 2008. It is constantly upgraded, adding new options. The modeling process is simple and user-friendly; information integrity and completeness are backed by the dentalshare cloud app. The program is able to download photos and visualize modeled images as realistically as possible.
Advantages of this CAD CAM system:
simplicity;
a user-friendly interface;
the application of additional modules;
compatibility with different scanners and milling equipment;
the possibility to download photos.
Exocad Dental CAD allows to produce caps, crowns, bridges, and other orthopedic constructions.

3Shape Dental System
One of the best CAD CAM dentistry programs was developed in Denmark. Besides the core option, it can be complemented with add-ins providing extra 3D modeling and prototyping possibilities.
The software is provided with a user-friendly interface as well as is upgraded and expanded. It helps to rapidly fabricate high-quality and anatomically precise dental build-ups, abutments, crowns, and gingival ranges.
Benefits of this CAD CAM system:
a user-friendly interface;
a wide choice of tools;
step-by-step planning;
model visualization;
additional modules.
The program allows to change all settings during the working process, e. g. the material type or construction characteristics. Besides, it provides access to more than 50 implant libraries.
Planmeca ProMax 3D
The system supports a variety of functions applied in 2D and 3D object visualization, designing, and processing of scanned materials. The software is compatible with different operational systems, thus it is easy to use.
Advantages of this CAD CAM system:
a huge set of tools;
multipurpose printing;
extra modules;
export and import options;
excellent visualization.
Such a system is designed for both small dental rooms and large clinics. It enables exchanging data and projects with colleagues.
Conclusion
Modern Cad Cam in dentistry significantly simplifies doctors' work, allowing to gain the results as soon as possible and produce orthopedic constructions with high accuracy. The majority of systems are user-friendly and simple. Everyone can explore them in short terms. The application of 3D technologies speeds up operations of dental clinics and rooms, allows to serve more clients for a certain time, and increases the level of provided services.
You will be able to discover more about 3D printing software and the role of additive technologies in healthcare at 3D Print Expo on October 4-5. Roman Gorbatov, a Doctor of Medical Science, will make a presentation: 3D printing in medicine: prospects of 3D bioprinting in the country.