$35,000 3D-printed Iron Man suit
18.12.2013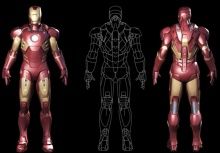 Iron Man's appeal is obvious. The Shenzhen, China based Iron Man Factory set up a new crowdfunding project designed to build and mass produce a Iron Man suit. Most likely the company hasn't got Marvel's approval to sell them - according to TechCrunch, "they declined to comment on licensing, indicating this isn't a project with Marvel's official blessing".
The company's website says the the Iron Man Mark III suits only weigh less than 3kg (6.6 lbs) and have carbon-fiber-reinforced polymer body with 2mm EVA internal cushion linings and metal joints for stability and durability. The prototype in the video below is fully 3D-printed, and it also comes with a "sensor enclosure opening system" and "intelligent LED lightning system".
The Iron Man Mark III suit is designed for 170-188cm (5'6"-6'2") tall human body, according to the specifications. TechCrunch reports that the factory employs between 30 and 40 people, and has been working with designers in Beijing on the Iron Man project. They began producing small runs of the Iron Man helmet alone via 3D printing.


Currently the company is trying to get at least 5,000 pre-orders for mass production. That means customers can get the full injection moulded suit for $1,999, if they can wait for 6-8 months of production lead-time. The full, 3D-printed suit costs $35,000 and can be delivered in 3-4 months, says the company. If that is too expensive, the company is also offering a 3D-printed helmet for $1,800.