3D Chocolate Printer Company Tastes Sweet Success
10.02.2014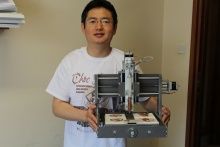 The ancestors of the Mayans and Aztecs first began consuming chocolate as early as 1900 B.C.
The wonderful brown stuff was reserved for royalty and priests, and then later for Europe's upper class. However, it was prepared essentially the same way for hundreds of years until the industrial revolution hit and innovators found a way to mass produce it in the second half of the 18th century.
Then 3D printing came along and another new approach to making chocolate was found. That has proved a boon for British firm Choc Edge, which has exported 3D printers capable of making chocolate, called the Choc Creator, to countries as far away as China, Brazil and the United States.
One company in the Czech Republic is now using the Choc Creator to produce corporate gifts and marketing materials for events.
"Our vision is to free people's imagination by providing them with a new way to design and create unique chocolates," Choc Edge Business Development Director Christina Zheng said. "We've had enquiries from all over the world, and we are really motivated by people's passion towards innovative chocolate creation." Choc Edge was founded by Dr Liang Hao and only began selling the Choc Creator in the beginning of this year.
The Choc Creator is a versatile and precise desktop machine developed to allow individuals and businesses to create their own unique chocolate designs in either 2D or 3D. It plugs into any computer via USB port, so users can create their own designs, or download designs provided by the company.

Using its special print head, the Choc Creator can produce lines of chocolate as small as half a millimeter wide, with much more precision than any current manual piping technique.
A range of chocolates can be used to print intricate designs onto various flat surfaces including cakes, biscuits, dishes, and paper.
The technology was featured on popular British television show "The Gadget Man," when host Stephen Fry held a dinner party for friends using high-tech equipment to prepare the feast.