3D models from CGTrader. Marketplace for designers, makers and 3D printing enthusiasts to buy, sell and discover
21.08.2015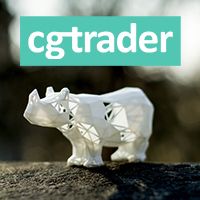 GTrader runs a 3D model marketplace for designers, makers and 3D printing enthusiasts to buy, sell and discover 3D models. The fast-growing marketplace is backed by a strong community of professional 3D designers, who have contributed over 120,000 3D models for sale or download so far. CGTrader currently unites over 210,000 professional 3D designers and helps them supply 3D content for the rapidly evolving 3D printing market.
"When 3D printing reaches mainstream adoption, 3D models will be used to produce physical products for consumer use. Therefore, 3D content will be the key element of the expanding 3D printing ecosystem. CGTrader empowers designers and creative individuals to develop brilliant product ideas, create high-quality 3D models and deliver them directly to millions of customers - bypassing complicated distribution, storage, and logistics processes. We are looking forward to working with Intel Capital - an innovator in 3D scanning and sensing - as well as Practica Capital to achieve that vision." - says Marius Kalytis, CEO and founder of CGTrader.

"We have been impressed by the team's ability to efficiently attract 3D content to CGTrader and rapidly grow the community of talented 3D designers. 3D printing technology will redefine multiple industries, and CGTrader team uniquely understands the process of creating and distributing digital 3D content." - says Petras Miciunas, partner at existing investor Practica Capital.
CGTrader offers 3D models both for sale and free download. "While there are a number of websites that offer free 3D model downloads for 3D printing, we believe that talented content creators need a platform where they could showcase and monetize their work and trade high-quality digital 3D content. As 3D printing market expands, the demand for 3D models will grow enormously and CGTrader will be placed perfectly to provide 3D content and 3D modeling skills for the world's needs." - says Marius Kalytis.
Adapted from cgtrader.com