3D Print Conference. Almaty: everything about three-dimensional printing in tandem with other technologies
21.05.2014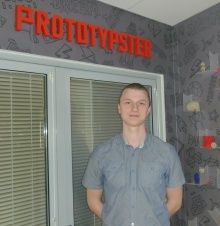 On 29 May 2014 Almaty will host the first Kazakhstan conference of advanced three-dimensional printing and scanning technology - 3D Print Conference. Themed show will bring together experts, scientists, researchers and entrepreneurs of 3D technology industry from the UK, Russia, Estonia, Kazakhstan and other countries to answer questions about technology of 3D printing and scanning.
In particular, leading experts from Russia will attend the conference to share experiences, establish close connections with innovative market of one of the fastest growing countries of the CIS. So, this is Matvey Bondar who will speak at the conference - Design Engineer, 3D designer in Prototypster (Russia).
Online 3D printing service Prototypster is a project of LOGEEKs. Vast experience of the company combines various stages of product creation - from design to serial production. Therefore, Prototypster team knows very well how to apply 3D printing technology in combination with other technologies. Matvey Bondar is willing to share his experiences and will speak about it in more detail at 3D Print Conference.
Speaker will make a presentation on "3D printing in tandem with other technologies"; he will report on widespread application of 3D printing, in particular:
• as a final product;
• in creation of master models and molds for casting;
• in production of samples and prototypes;
• when prototyping;
• when preparing educational materials;
• in designing complex multiunit mechanisms and parts;
• to make sculptures using 3D scanning.
Information about speaker:
Matvey Bondar is a Design Engineer in online 3D printing service Prototypster. He has a unique experience both in design and in 3D modeling of unconventional things. Has got secondary and higher technical education with a degree in "Aircraft construction engineer" and "Helicopter and Aircraft Design-engineer". In Prototypster Matvey is responsible for development and design of new 3D models, testing and getting ready to 3D print models sent by customers. He takes active part in educational project of the service. He is fluent in rapid prototyping technologies and can easily explain anyone how to use 3D printing.
You can find out details and register for 3D Print Conference on official website of the show. We remind you that the conference of advanced 3D printing and scanning technology will be held on 29 May 2014 in Almaty in the conference hall of hotel "Kazakhstan" (52/2 Dostyk avenue).
More information:
www.3d-conf.kz
+7 495)212-11-28
+7 7172 72 74 47