3D Print a Watermelon Tap to Create Your Own Watermelon Keg for That Labor Day BBQ
14.08.2014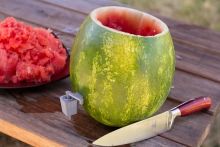 With the summer coming to an end and Labor Day soon to be upon us, there are sure to be many end-of-summer barbeques and parties. With only a few weekends left before Labor Day ushers in the unofficial end of the season, now is the perfect time to party it up before the nice weather and good times come to an end for another eight months or so.
No party is complete without lots of fruity drinks for the kids, and fruity alcoholic beverages for the adults. What screams 'summer' more than a watermelon, right? Watermelon is boring by itself, and fruity beverages in tiny plastic water jugs are also not overly exciting. This would be the perfect time of year to combine the two, in the form of a self-made watermelon keg, fill with your favorite drink of choice.

Sound difficult? Actually it's incredibly simple to make, if of course, you have access to a 3D printer. Household Hacker asked the guys at Robo3D, the 2-year-old 3D printer manufacturer, to design a tap. They did, and it came out very nicely. After printing the tap, of which the 3D model can be downloaded here, next you need to hollow out the inside of a watermelon. Be sure to leave just enough fruit around the edges in order to give any liquid poured inside, a nice flavor. The next step is to cut a small whole near the base of the fruit, about half the diameter of that of the printed tap. Now you can force the tap through the whole, ensuring a tight fit. At this point you are ready to fill the watermelon with ice, add your favorite drink, and replace the lid. You will now be ready to serve all your friends, from your partially 3D printed watermelon keg. More than likely they will be thoroughly impressed by your creative idea.

In total, the watermelon dispenser is made up of five different parts. As long as your 3D printer has an adequate build envelope, all five parts can be printed out at once, and on average should not take much longer then an hour to an hour and a half to print out.
Check out the video below from Household Hacker, explaining the entire process in detail.