3D printed band coming soon to the stage at Euromold
27.11.2013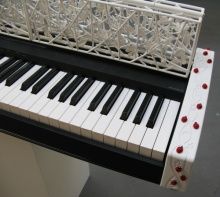 Olaf Diegel, a long-standing design engineer, with a passion for 3D printing will bring his latest creation, Ladybug keys and Atom Drums to Frankfurt and play live at the EuroMold design fair.
All the components used in the instruments were 3D printed by 3D Systems using Selective Laser Sintering. They were made on an sPro 230 SLS system at 0.1 mm resolution.
The Atom 3D printed Drum Kit

The Atom 3D printed drum kit is a 5 piece drum kit on which all the drum shells have been 3D printed. The kit consists of 12", 13" and 16" toms, a 22" bass drum, and 14" snare. The hardware is from a Sonor SmartForce drum kit. The material being used for the keyboard is Duraform PA which is a very strong form of Nylon.
Will the holes, the body design change what the drums sound like? Diegel said, "I was expecting the 3D print, and all the holes, to dramatically affect its acoustic properties, but there's little noticeable difference between it and the original kit."
The Ladybug 3D printed Keyboard

The Ladybug 3D printed keyboard is a Yamaha P35 digital piano with a nature inspired 3D printed shell. The materials being used for the keyboard is same as Atom Drums: Duraform PA.



Olaf Diegel has also created a range of personalisable, customisable guitars with 3D printed bodies. It is not clear which electric and bass guitars Diegel will bring to Germany, so we choose two latest 3D printed guitar from his ODD guitar collections.
The Hive 3D Printed Bass Guitar

A Les Paul inspired bass guitar with a hexagon motif and bees on the inside. The bodies are 3D printed. The guitars feature a wooden inner core (choices of Mahogany or Maple, etc.) that links the neck to the bridge.
Introductory Price: US$3500, incl hard case, excl shipping.


The Steampunk 3D printed Guitar

The Steampunk 3D Printed Guitar is not just a graphical masterpiece, it is a fully functioning Steampunk Engine and amazing sounding electric guitar.
The Steampunk 3D Printed Guitar features a 3D printed body with moving gears and piston. The entire body, including all its moving components is printed as a single component, with no further assembly required. The Steampunk paint job was done by New Zealand airbrush artist Ron van Dam.

Besides the live show, the 3D printed band will be on display on the 3D Systems stand at Euromold, in Frankfurt, from December 3rd to 6th.