3D printed column - symbol of the new opportunities in architecture
10.04.2014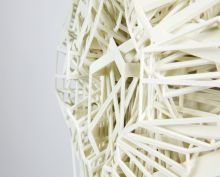 Impressive column created by architect and designer Sam Welham and Richard Beckett from London – is a masterpiece that attracts a lot of attention. It symbolizes the whole range of capabilities of 3D printing in architecture.
The sculpture is of 2.1 m and consists of two parts. The lower part is printed of sand with mid-resolution print and with 0.3 mm layers. The upper part of the sculpture is printed in white high-resolution plastic PMMA at 0.12 mm layers.
Both parts are made using high-quality 3D printers in service center of Voxeljet, Friedberg, Germany. Despite all the difficulties, the parts were printed solid.
It took large format 3D printer VX4000 20 hours to print lower part of sand; its height is 1.14 m and it weighs 134 kg. The upper part is made of plastic, its height is almost 1 m, it weighs 52 kg. It took VX1000 34 hours to print it.
Sam Welham is incredibly happy with new technical possibilities 3D printing provides, in particular, it is about the quality and amount of Voxeljet printers. Colomn symbolizes the fusion of classic style and the new neo-digital design. Along with this, the sculpture serves as proof that 3D printing is now used not only for prototyping and modeling, but also to create architectural elements in 1:1 scale.
Stela was presented at AMUG Conference held in Tucson, Arizona, on 6-10 April 2014.