3D Printed Italian Fashion Collection
11.03.2015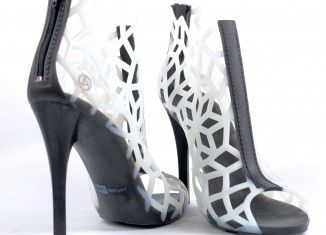 Gruppo Meccaniche Luciani, an Italian footwear molds manufacturer, has unveiled an intricate six-piece collection of color, multi-material 3D printed fashion pieces using Stratasys' triple-jetting Objet500 Connex3 Color Multi-material 3D Production System at the Lineapelle Fair last week.
Inspired by natural occurring curves with a futuristic twist, the collection comprises three pairs of shoes, a bag, bracelet and top and demonstrates the design creativity enabled by Stratasys' unique triple-jetting technology. Featuring vibrant colours from bright pink to contrasting monochrome, along with complex rigid and soft material combinations, each intricate item was 3D printed in a single build.

3D printed shoes with unparalleled precision
With durability and highly-detailed aesthetics crucial in the development of the shoes, Gruppo Meccaniche Luciani used Stratasys' triple-jetting technology to mix materials and colors on-the-fly. The shoe features varying shades of pink, black and transparent to emphasize the designs' dynamic curves.
Another pair of shoes in the collection features several intricate, sharp latticed curves. According to Elisa Luciani, Sales Manager from Gruppo Meccaniche Luciani, achieving the complexity of the collection could only be realized using Stratasys' technology:
"When designing the shoe we were concerned about the rigidity and resistance of the heels, but the 3D printer's ability to combine varying densities of rigid and soft material simultaneously, enabled us to manufacture the whole shoe in one print," she explains.

"Previously it was impossible to produce prototype parts such as boots and bags quickly without making a sample mold. With 3D printing we can produce high precision prototypes significantly quicker than traditional prototyping allowed," she adds.
Manufacturing realisitic wearables with advanced 3D printing materials
Also featured in the collection is an elaborate 3D printed monochrome top and bracelet. Produced using a combination of advanced materials, the piece uses dramatic color contrasts to emphasize the erratic curves featured in the centre of the top.
In order to avoid the uncomfortable rigidness typically posed by plastic, the company chose Stratasys' advanced rubber-like materials as an alternative.

Luciani explains: "Our main requirement was to produce a highly-detailed, realistic wearable. Using Stratasys' materials, we were able to 3D print a top with varying levels of softness that could be worn in direct contact with the skin. The ability to combine rigid and soft materials simultaneously is unique and would have otherwise entailed manual manufacture and individual assembly of each material."

3D printed bags designed to go the distance
Completing the collection is a flower-inspired handbag that uses combinations of sharp triangles layer-upon-layer to build and mimic futuristic curves. According to Luciani utilizing the durability of Stratasys' rigid opaque VeroBlack material has enabled her design team to create a wearable that can endure everyday use.

Luciani concludes: "3D printing enables us to offer a new line of items to our clients. We can design and 3D print realistic prototypes in a matter of hours and incorporate any required design iterations before starting full production. As we can modify the design and 3D print the revised product the same day, we minimize costs and reduce our turnaround time significantly, while maintaining the highest-quality."
Davide Ferrulli, Stratasys' Italian Territory Manager concludes: "With its ability to combine flexible, rigid and color parts all in a single build, our triple-jetting Connex3 technology is fast-becoming a household design tool within many creative industries. Where designers were previously restricted by the limitations of traditional techniques – especially for the production of complex shapes – the precision now available through our most advanced 3D printers grants them the means to bring their creative ideas to life with incredible realism."