3D-printer maker Formlabs accepts Bitcoin, releases PreForm 1.0
16.01.2014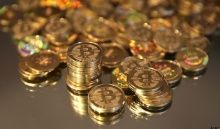 3D printer maker Formlabs will begin accepting the digital currency Bitcoin on its online store, the company announced at the CES 2014 on Tuesday.
"This is as much from the requests of our customers, who are a digitally-savvy crew, as it is from our own interest in all-things awesome." says Formlabs. The company hopes to reach a wider audience of 3D printing enthusiasts by accepting Bitcoin.
"We're at the forefront of digital technology and so are our customers, who are increasingly using digital payment methods," said Formlabs spokesperson Sam Jacoby. "Who knows, we may see people using their Form 1s to print out physical versions of their BitCoins?" Jacoby added.
Formlabs also announced the release of a new printing software, PreForm 1.0, an updated and simplified version of its beta software for its Form 1 3D printer. PreForm software features automatic generation of smart support structures and auto-orient that optimizes part rotation for support generation. You can also analyze individual print layers with 3D stage viewer. The new "quick release tabs" allow users to remove models from the printer easily and quickly when they're finished.
Formlabs' ultimate goal is to create "one-click 3D printing", making printing a 3D model as easy as printing a 2D photo. The new software represents another step in making 3D printing as easy and reliable as possible, according to the company.