3D Printer World Launches Design Contests Awarding $80,000
28.11.2013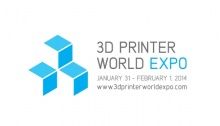 3D Printer World has rolled out three design contests and a fourth is scheduled to begin on Dec. 2 as a GrabCAD Challenge. Each contest will award $15,000 to the first place winner, with second and third place honorees earning $3,000 and $2,000 respectively, bringing the total prize pool for the four competitions to $80,000 in cash – the largest sum ever awarded in a 3D printable design contest series.
The first, second and third-place winners in all four contests will be announced, recognized and awarded their cash prizes at the 3D Printer World Expo in Burbank, Calif., Jan. 31-Feb. 1. Additionally, contest finalists will have their designs 3D printed and displayed at the show.
The three active contests include:
Jewelry: Cherishing Memories/Reaching for Dreams
Character Art: Monster Manifestations, co-sponsored by Sculpteo
Abstract Art: Envisioning the Renaissance
The fourth contest, co-sponsored by GoEngineer, is called Gears of Invention and tailored for CAD designers. Its theme, rules and requirements will be announced on Dec. 2 when the contest goes live on the GrabCAD website.
To learn more about the contests including design rules and criteria, and to access their registration forms and upload entries, please visit the 3D Printer World Expo Contests page.