3D printers to be introduced into Australian schools
28.11.2013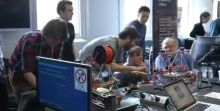 Australian high school students will soon be reaping the benefits of 3D printing technology. A new program is showing teachers how to build 3D printers and incorporate them into school curriculum, Austrialia Network News reported.
In collabration with the University of Melbourne, Quantum Victoria, a science and maths innovation centre funded by the Victorian Government, has just trained its first group of teachers. 19 schools are about to starting using 3D printing.

It's an exciting development for the education sector, says The organisation's Soula Bennett. She believes this program will provide classes with endless possibilities. "When they go back to their schools they're able to utilise it across science, technology, engineering and maths, but also arts, history, languages," she said.
Sunbury Downs College teacher James Alexander agrees. "For example in a chemistry classroom quite often we're talking about molecules in three dimensions and we try and get the students to picture it and we show animations," Mr Alexander said. "To build that deeper understanding, we can get them to design their own 3D molecular structures. They can physically print it out, touch it, hold it, see what it looks like."
This week the University of Melbourne has hosted the first ever Australian showcase of 3D printing. The event was launched by the Vice-Chancellor, Professor Glyn Davis and was a collaboration between the University of Melbourne, Quantum Victoria and Autodesk.

The showcase brought together the latest technology, ideas and experts under one roof, aiming to promote the potential of digital fabrication to all researchers, teachers and students at universities and high schools. As part of the event, 10 hand made 3D printers were donated to disadvantaged secondary schools across Victoria.
Showcase organiser, Bernard Meade believes machines are now cheap enough to have in individual homes or offices. "This is a great time to start highlighting this technology and demonstrating the many uses of 3D printing," he said.
"We are interested in sharing with the research and wider community how we use this burgeoning technology to aid our research and how will it affect the way we teach at the University. "