3D printing and fashion: 3D fashion days at 3D Print Expo
01.09.2014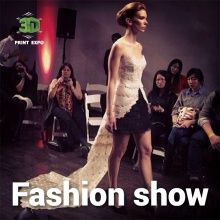 3D printing has a huge impact on fashion industry. Fashion industry is always in need of some changes and opportunities to stand out and 3D printing succeeds in this. Three-dimensional modeling allows us to accelerate the process of work and provides designers with freedom and choice. Now they can make clothes in small quantity and continue to create while printer does the rest.
Sustaining this theory, in the framework of 3D Print Expo in Moscow to be held on 23-25 October 2014 in the exhibition and convention center "Sokolniki", a unique three-day fashion show of clothing printed on 3D printer will be held.
The fashion show will be held during all three days of the exhibition according to schedule. You will have an opportunity to see unique clothes and accessories during models' demonstrations at 11 am, 1 pm, 3pm, 5pm.
3D Print Expo will surprise you with:

underwear (provided by 3D Printus, created by designer Victoria Anoka and professional of 3D printing service Konstantin Ivanov);

incredible dress inBloom (provided by XYZ Workshop and jForms).

These amazing things can be seen only at 3D Print Expo!
Visit 3D Print Expo and witness the unique show - demonstration of clothes and accessories created using advanced three-dimensional printing technology!
The first day of the exhibition (October 23) will be the day for professionals and business representatives. Therefore, this day we recommend visiting the event for those who have a direct interest in the use of 3D technology in business.
October 24 and 25 are visitors days, when everybody interested will have an opportunity to visit the exhibition.
Do not miss your chance to learn about revolutionary technology that will change this century in the near future and Join 3D Print Expo!