3D printing could revolutionize supply chains at Maersk
15.07.2014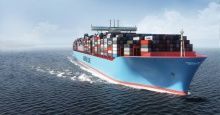 In the future, 3D printing technologies could be used to print out spare or repair parts as a solution to current high logistical cost. When advanced manufacturing and 3D printing becomes widely available, more companies are exploring how 3D printing can be used as an at-sea manufacturing technology.

Earlier this year, the U.S. Navy installed a compact 3D printer on amphibious assault ship USS Essex (LHD 2) for testing. The Navy aims to train sailors with this expertise, so if there is a part needed and it doesn't exist in the inventory, sailors could design and print the part on demand within hours or days, allowing for a more rapid response to the ship's needs.

According to a video produced by the Denmark-based shipping giant Maersk, one of the biggest shipping companies around, Maersk is also looking to experiement with 3D printing, hoping to save costs on current high transportation expenses.
The idea is to install a 3D printer on a tanker vessel to allow the crew to 'print out' spare parts on demand. "We can send the blueprint to the crew on board the tanker vessel, and they will simply push "print," and in a matter of hours they get the part they need." said Märtha Josefine Rehnberg, Category Manager at Maersk Procurement.
Considering the cost and vulnerabilities of its logistics and supply chains, Maersk has purchased an Objet uPrint SE 3D printer from Stratasys. The uPrint SE 3D printer uses Fused Deposition Modeling (FDM) Technology to build 3D parts in ABS thermoplastic and can be used to produce durable spare parts right from desktop.
In the future, 3D printers could be used to print out spare or repair parts for large, ocean-going oil tankers, and "the digital blueprint could be uploaded from Denmark and download from anywhere in the world," said Rehnberg.