3D-printing as a method to manufacture parts
28.11.2013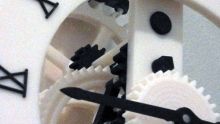 According to analysts Wohlers Associates, usage of 3D-printing as a method to manufacture parts for final products gains momentum. According to analyst's estimates, in 2012 share of expenditure for production of such items increased by 28.3% of total expenditures for 3D-printing, which amounted to $ 2.2 billion.
As noted by analysts, 3D-printing, which is often called additive manufacturing, is increasingly used in several segments, such as manufacture of metal dental crowns and bridges, orthopedic implants, and jewelry.
Aerospace is also an important market for 3D-printing. Boeing is actively using additive manufacturing for production of environmental control systems, which direct the airflow in military and civil aircraft. GE Aviation is planning to use 3D-printing in new LEAP engines for manufacture of fuel dispensers and to manufacture about 40 thousand dispenses in the coming years.

According to analysts Wohlers Associates, 3D-printing will be much more widely used for production of parts for final product than prototyping, because number of parts created is thousands of times greater than number of prototypes. They are sure that 3D-printing market outlook is connected with production, and not with prototyping, because additive manufacturing offers great opportunities in terms of output of commercial products.
According to Wohlers Associates, 3D-printing market is growing faster each day. Thus, average annual rise for the past 25 years was 25.4 %, and for the past three years - 27.4%. At this low-cost devices (less than five thousand dollars) are enjoying extremely popularity - from 2008 to 2011 sales have been annually by 346%. In 2012 the growth in sales has decreased to 46%, though. Such gadgets are mostly bought by hobbyists, those who like to do things by their own hands, the students of technical universities and educational institutions.
According to forecast, in the coming years market of 3D-printing will grow by more than 10 % and by 2017 it will amount to $ 6 billion.