3D Printing with Osteofab will Give Freedom Back to Somali Woman
21.03.2014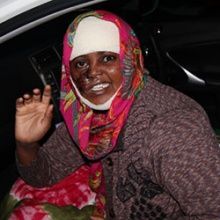 I just love to write these articles. I love it not only because it is another demonstration of how much good 3D printing technologies can already do all over the world but also because it shows a clear and rapid evolution of biocompatible 3D printing technologies. In fact it is simply amazing how fast things are moving in this sector.
There are many players within the biocompatible 3D printing sector but Oxford Performance Materials is definitely at the forefront. Only about a year ago Michael told you how their new Osteofab 3D printing process, which uses a PEKK polymer to produce medical and implant parts,was approved by the FDA for use in a Patient Specific Cranial Device. Now the Osteofab process has achieved another important milestone, as it was used to reconstruct the face of a woman, shot, when she was just two years old, during the Somali Civil War.
She survived, but Ayaa Oma Muhumed lived almost her entire life with a huge hole in the center of her face, just beside her nose. Now that wrong can, at least partially, be righted through the use of 3D printing. The Foundation for Orthopedic Reconstruction (FOR) donated her the Oxford Performance Material's Osteofab Patient Specific Medical Implant and a team of 20 medical and surgical volunteers donated their time. After 11 hours, the surgery was declared a success by Dr. John Avier and Dr. David Chin.
Aya's face will never be as it was, and no one can pay her back for the suffering she has had to endure but her face is now virtually whole again and that is not something to be taken lightly. And nor does she. It also represents the promise of a future in which these processes will become commonplace, materials will keep improving, bicompatible materials will fuse with biological materials, and the difference between artificial and natural skin will become so blurred it will become impossible to tell the difference.