3D printing technology successfully used to guide a complex liver resection in China
06.05.2015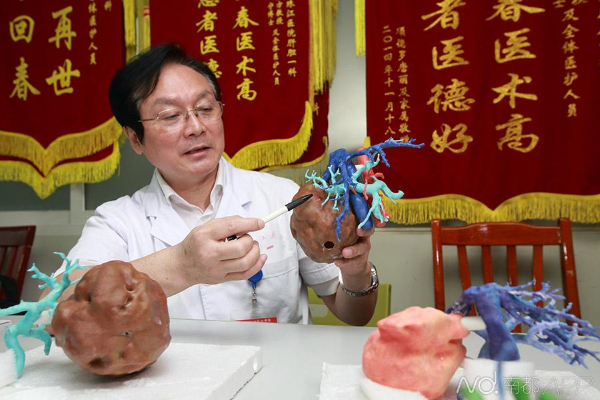 3D printing technology is really making a name for itself in the medical world. Of course, most bioprinting innovations will still take a few years before they can be used be implemented, 3D printed implants and 3D printed replicas to help surgeons prepare for complex operations are already saving lives everywhere. And in that latter category, a very complex surgery has just been completed in China using a 3D printed replica. For the first time in Chinese medical history, doctors in the Zhujiang hospital of Southern Medical University used a 3D printed replica to complete a liver resection surgery.
The patient in question was the 35-year-old Mr. Wu. Suffering repeatedly from extreme bouts of diarrhea for four years years, he went to a local hospital many times. First diagnosed with "acute gastroenteritis", doctors later discovered a huge tumor in the patient's right liver lobe. In fact, this tumor was shaped like a small watermelon and seriously endangered the patient's life. According to Fang Chihua, Professor of Department of Hepatobiliary in Zhujiang hospital, the large hepatocellular carcinoma on the right lobe of the liver was very close to intrahepatic vessels. This made surgery almost impossible, as conventional imaging methods were unable to provide doctors with sufficient information before 'going in'. In particular, they were unable to assess the risk of hepatic failure after surgery.
But according to Chinese media, the patient successfully underwent surgery on the 22nd of April with the help of 3D printing technology. Doctors 3D printed a large and complex simulation model of the patient's liver, complete with the large hepatocellular carcinoma, the bile, pancreatic islets and the lesion area. Data for this highly accurate replica was taken from CT scans by Fang Chihua and his surgical team. This was used to 3D print the liver in a 1:1 scale.

Not only did it enable doctors to properly prepare for surgery, it was also used to show the patient and his family exactly what was going on. It helps the patient and family to intuitively understand the disease and the operative risk, so it can definitely improve physician-patient communication. Doctors further said that such 3D printed models can also be used to train younger doctors.
The team has said that the 3D printed liver model enabled them to see and understand the lesion area of the hepatic artery, the portal vein and the hepatic vein in multiple dimensions. This section of the surgery is key, as it enables intuitive navigation during surgery and enabled the removal of the lesion without damaging important structures in the patient's body. In short, it helped doctors optimize surgical precision and effectively reduced surgical risks.
'This case is complex. During a conventional surgery 70%-80% of the liver needs to be removed, but as the patient has hepatic sclerosis, he must retain a minimum of 50% of the liver. If more is removed, there is a significant chance of postoperative liver failure, which can be life-threatening and even lead to death. Therefore, 'this patient is usually unfit for the routine surgery,' Fang Chihua said. 'But using a 3D printed liver model to prepare a precise resection of the liver, we managed to reduce the liver resection to 42. 8%, keeping 57.2% of the liver tissue intact. This will play a very important role in the patient's recovery.' The surgery took about 5 hours, and patient is reportedly in good condition.