3D Prints From 2D Photos Of A Moving Subject
06.05.2014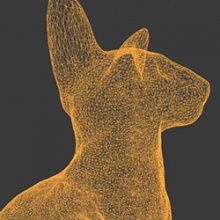 When Mark Dahmke found that Autodesk's otherwise excellent 2D-to-3D app 123D Catch was limited outside of his needs to digitally capture a moving subject – his cute cats – he decided to pursue his own solution to the problem. The exercise in lateral thinking began with a bit of technological experimentation and ended in technical innovation. This is clever stuff, and anyone can do it. Let's have a look at what Mark has been up to, unveil the set-up, process and outcome 3D prints that represent the solution to his kinetic cat problem…
Cat's are everywhere. In people's houses, roaming back gardens, and perhaps more surprisingly all over the internet. Whilst our feline friends have a reputation for vanity, it was Mark Dahmke's love of photography that drove the start of this technological tale, although his cat Solia does seem rather happy looking at its 3D printed incarnation as we will see later.
Further to his experimentation with the 123D Catch iPad app, Mark got thinking on how to capture an image of his perpetually dynamic cats in 3D. In mid-2012 he put together a test with three cameras – two digital SLRs plus a Hewlett Packard point-and-shoot camera. He used a remote trigger to simultaneously snap the DSLRs into action, but had to manually trigger the HP. Mark also mentions that he discovered a requirement for greater consistency in the ambient and direct lighting, needing a flash with a very short exposure to improve depth of field.
After those experiments he ceded for a while then in mid-2013 decided to try again with impressive results. It's worth noting at this point that camera's can of course be hired, not simply invested in as a bulk expenditure, which would of course otherwise limit this process to the affluent, photography professionals and businesses.

For his second attempt at this mission Mark used Canon Powershot cameras with custom firmware from the Canon Hack Development Kit project. The CHDK project is a firmware enhancement that operates on a number of Canon Cameras, akin to an SDK kit for programming solutions on a platform base that we witness in smartphone apps or many other programming outputs. It provides additional functionality beyond that currently provided by the native camera firmware. Without going in to great technical detail on this particular aspect of the project, useful relevant Canon CHDK features include:
Motion detection – Trigger exposure in response to motion, fast enough to catch lightning.
USB Remote – Simple DIY remote allows you to trigger exposures or scripts.
PTP Extension – Remote control and display from a PC.
Zebra-Mode – Displays under and overexposure areas live on the screen.
Override Camera parameters – Exposures from 2048s to 1/60,000s with flash sync. Full manual or priority control over exposure, aperture, ISO and focus.
The version of the software that Mark used was Stereo Data Maker because it allowed for very precise synchronisation of multiple cameras, a central requirement for his elaborate set-up. His first "proof-of-concept" tests started with three cameras, then he moved on to six as his confidence with the 3D set-up continued to grow.
Mark ran some tests on static subjects to determine the minimum number of shots it would take for the 3D capture software to be able to produce a good model. He then scaled up by building a support rig from PVC pipe, added flash units and started experimenting with lighting and camera exposure settings. The goal of this effort was to be able to capture all the images with an accuracy of at least 1/125 second, to freeze motion. The flash fires in about 1/1000 second and the cameras must fire plus or minus a few 1/1000 second after the flash. Other camera's and software can of course be used.
The 24 images from the camera rig were then imported into Agisoft PhotoScan to generate a 3D mesh and surface texture. Mark says that after much experimentation he found that PhotoScan produces much more accurate models than 123D Catch. This does make sense as 123D Catch is primarily pitched as an entry level software, which enables pretty much anyone to take a few 2D snaps with their smartphone and output a 3D image. Also, PhotoScan supports masking, which significantly improves the accuracy of the 3D capture. The following video is an overview of creating 3D images with Agisoft PhotoScan:
From there Mark used 3D CAD freeware Blender for hand editing and smoothing. It's not the easiest program to get in to so you may wish to select from a number of alternatives, such as Meshmixer. In Blender he used the sculpt tool to smooth the surfaces and fix problem areas that PhotoScan could not handle, such as ear tips. He cropped the model and added a solid base ready for 3D printing.
Mark then exported the final model as an X3D file, along with a JPEG for the surface colour and texturing, then be uploaded the files to an online 3D printing service bureau. A number of non-specialist 3D print providers can now be found to fulfil your printing requirements if you do not have 3D printer at home, such as UPS in the U.S. and Asda in the U.K.

We already see a wide range of interpolated camera solutions being enacted by 3D printing businesses, particularly for the emerging 3D selfie trend – as jumped upon by everyone from huge corporation 3D Systems partnering Predator movie merchandise to London based 3D printing store iMakr's recent Selfridges mini-store, which even attracted a number of politicians seeking 3D selfies as the latest publicity trend. Mark's set-up places the process in the hands of the maker or photographer, democratising it and placing the potential output in the hands of anyone from a camera hobbyist seeking to create that extra special birthday present to local community activity projects.
It will take time, a little investment in hiring the devices required for the set-up, and dedication to achieve the outcome, but the final 3D print can be produced at any available size, in any available material – ranging from wondrous wood to beautiful bronze, biodegradable plastics to colour changing polymers. The sky is the limit, once the harder work is done. Mark's 3D printed piece was a cute colour clone of his fine feline friend. I'll leave you with a photo of kitty Solia for inspection…