3D Systems announces continuous-tone, full-color ProJet 4500 3D printer
04.12.2013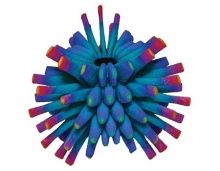 3D Systems today announced a new ProJet 4500 3D printer, the first and only continuous-tone, full-color plastic 3D printer available on the market. It uses 3DS' ColorJet Printing (CJP) technology and delivers ready-to-use vibrant, full-color durable plastic parts straight out of the printer.
ColorJet Printing (CJP) involves two major components: core and binder. Core material is spread in thin layers over the build platform with a roller. After each layer of core material is spread, color binder is selectively jetted from inkjet print heads over the core layer, causing the core to solidify. The build platform lowers with each subsequent layer of core and binder until the model is complete.
.

This printer delivers strong semi-rigid parts in high-resolution, pantone-like color with a nice surface finish, no post-processing or painting required.
The ProJet 4500 uses flexible and strong VisiJet C4 Spectrum plastic materials for durable models. It has material recycling capabilities and ability to produce parts that do not require supports, making it eco-friendly.