3D Systems Announces New iSense 3D Scanner
03.07.2014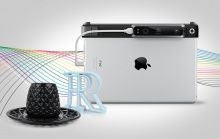 3D Systems
announced that its
iSense™ 3D scanner
for iPad is immediately available for pre-order on
Cubify
™ and through affiliated retailers, resellers and distributors with commercial shipments to commence in the second half of July. Previewed at the 2014 Consumer Electronics Show, the iSense is ideal for physical photography on the go, empowering users to easily capture and readily 3D print their memorable moments. Powered by 3DS' popular Sense 3D scanning software, the iSense scans wirelessly in seconds for an easy capture experience.
As the newest addition to 3DS' consumer offering, the iSense fully integrates with the Cube® family of consumer and prosumer 3D printers and also offers direct upload options to Cubify for cloud printing in a range of materials including Ceramix, Aluminix and Clear.
Powered by 3DS' popular Sense software, the iSense gives you the freedom to scan anything and you don't have to stand still or place an object into a box as required with other 3D scanners. Users simply attach the iSense to an iPad, walk around and scan entire objects or environments obtaining a digital copy of the real thing.
iSense is priced at $499 and is available for pre-order on Cubify, 3DS' consumer hub for 3D printing.

iSense Features:
Physical photography for the iPad
Discover the power of mobile 3D scanning on your iPad or iPad mini with the new iSense. Its integrated design makes it easy to capture every dimension of your favorite moments on your iPad. Scan your family and friends, everyday-events and adventures, all on your iPad, all in 3D.
Upgrade your iPad and get inspired on the go
The compact snap-on design of iSense instantly transforms your iPad into a 3D scanner, giving you the freedom to scan spontaneously where ever you are. Take it with you and allow your physical world to spark your creativity.
Big or small, scan it all
From shoes to SUVs, iSense has the most versatile scan range in its class with aut
o-optimized settings for objects large and small.
Zero-in on what matters
Automatic object recognition extracts precise targets from the busiest of backgrounds.
Edit with ease
With quick cropping, enhancement and solidifying tools, iSense can prepare 3D printable files within minutes.
Scanned for 3D printing
Physical to digital, and back again. Fully integrated with Cubify and your Cube 3D printer, the iSense allows you to upload scans directly for 3D printing, either at home or through the cloud.
Learn more about 3DS' commitment to manufacturing the future at 3DSystems.com and how to live the 3D printed lifestyle on Cubify.