3D Systems announces new sub $5,000 CubePro 3D Printer
23.01.2014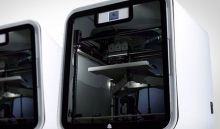 3D Systems today unveiled the new CubePro 3D printer, a simultaneous triple-color, multi-materials, large capacity, prosumer 3D printer.
The CubePro features a controlled environment print chamber and automated settings, large print platform, high-resolution prints and quick set up. Available in three print head configuration CubePro allows users to get more expressive with 3D printing in up to 3 simultaneous colors and more color options.
CubePro is connected through an easy-to-use color touchscreen display and mobile and WiFi. It is powered by the Cubify mobile app letting users print on the go direct from their Shelf, prepping files and sending to print, all from an iOS, Android or Windows phone.
CubePro uses cartridges system that allows users to send back empty cartridges to designated 3DS locations for reuse in exchange for a discount on new cartridges and return used ABS and PLA prints for responsible recycling or composting by 3DS. CubePros are shipped from local distribution centers reducing freight.

According to the company, hotline and email support is available everyday from 3:00 am to 8:00 pm EST to customers.
Specs:
Technology: Plastic Jet Printing (PJP)
Print jets: Single, Dual or Triple Jets
Build envelope: 10.8" x 10.45" x 9.5" or 275 mm x 265 mm x 240 mm
Resolution: 75-micron thin print layers (Single head), 200 microns (Dual Jets), and 350 microns (Triple Jets)
Print speed: Maximum 15mm (9/16") per second and polymer dependent
Connection: Color touchscreen display, mobile and WiFi
Material: PLA / ABS / dissolvable natural PLA
Compatibility: Windows XP, 7, Mac OSX10.8 or higher
Weight: 80 lb / 36kg (single head)
CubePro comes with starter materials, 25 free designs and a Cubify Invent software license for introductory 3D design. CubePro is integrated with 3DS' Cubify, connecting CubePro users to collections of 3D printable content and the Cubify social platform.
The CubePro will be on display at CES in Las Vegas, NV, January 7-10, 2014, in the 3DS booth 31424 LVCC South Hall 3. The company plans to commence commercial shipment of CubePro during the second quarter of 2014.