3D Systems Begins Shipping Micro-SLA 3D Printer
07.05.2014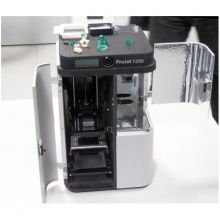 After the onslaught of releases made by 3D Systems at Euromold at the end of last year and CES at the beginning of this year, there's likely to be a great deal of anticipation about when their new 3D printers will finally start shipping. The first of their newly manufactured additive manufacturers to begin shipping is the ProJet 1200 Micro-SLA 3D Printer.
The ProJet 1200 is a small SLA machine developed to produce small, but highly detailed objects suitable for casting and creating jewelry, electronic components, and dental wax-ups. With a build volume of 43 x 27 x 180mm (1.69 x 1.06 x 7.08 inches) and the ability to "print up to 12 precise dental wax ups in under an hour and [create] 5 intricate rings in under 2 hours", the 3DS' press release describes it as "smaller than most coffee makers and faster than baking a cake."
The ProJet 1200 prints 30 micron layers with a resolution of 585 dpi and is priced at $4,900. The machine is also outfitted with LAN and USB connectivity, features all-in-one material cartridges, and has a built-in UV curing station for the safe handling of parts. The use of VisiJet FTX Green material for casting patterns makes for an ash-free burn-out for plastic prototypes and the design of small collectibles. Altogether, the Micro-SLA 3D printer is ideal for jewelers, dental labs, product designers and the like.
In fact, Sun Dental Labs has already purchased one with the company's Vice President of Global Operations, Chuck Stapleton, saying, "Sun Dental Labs is always pursuing the cutting edge in the dental technology field and the ProJet 1200 is a great addition to our portfolio of technologies. The compact size and speed of the ProJet 1200 allows us to further refine our digital manufacturing processes."
If you're convinced by the marketing videos above and below, you can order the ProJet 1200 Micro-SLA 3D Printer here.