3Doodler announced the dates of retail sales start
13.01.2014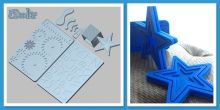 Company-manufacturer of 3D printing pen 3Doodler announced plans for worldwide retail sales in 2014, and told about launch of accessories at International CES.
On Tuesday WobbleWorks announced that 3Doodler will be available in retail stores Brookstone across America, and online on such websites as ThinkGeek, Maker Shed and on website of official partner of 3Doodler - MoMA Store.
At CES 2014 WobbleWorks will also present a series of accessories for 3Doodler.
DoodleSuit
First, a pen holder. Two front legs of DoodleSuit can also be used as a speed control button, allowing you to spend less energy and move DoodleSuit to create accurate lines.
3Doodler also produces six different interchangeable nozzles allowing extruding plastic of various shapes and sizes.


DoodleBlocks
DoodleBlocks
WobbleWorks will also showcase DoodleBlocks, silicone molds that can be filled with ABS or PLA plastic from pen. Various forms are available - in the form of stars, numbers and letters: it provides one with opportunity to create 3D objects rather easily.
3Doodler debuted last year with an extensive crowd-funding campaign on Kickstarter and by now has almost completed delivery of its product for 3D printing to their donors. WobbleWorks is already taking pre-orders for 3Doodler, estimated time of delivery - March this year. Price and exact time of launch of 3Doodler accessories is still unknown, but company hopes to begin delivery in spring 2014.