3DPI's 2013 Gallery of 3D Printed Christmas Ornaments
24.12.2014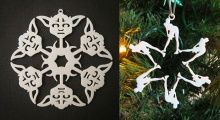 Earlier in the holiday season Makerbot and i.materialize announced respective design contests for 3D printed Christmas ornaments. While the challenges have ended weeks ago, there remains an image pool of hundreds of awesome 3D printed ornaments all over the web.
Here we have curated a gallery of some of the most beautiful ornaments culled from Thingiverse, Instructables, Shapeways, and the internet in general. While all of them display ingenious design, there are definitely a few hilarious ones to enjoy too.

Have a Meta Christmas with this ornament. Like the tree it is hooked onto, it is conic and tree-shaped. And if that's not enough, spiraling downward from its top, the cascading trees and snowmen will sear into your psyche there is no escaping Christmas.

There's a strong theme going on in some of these ornaments around ensnaring beauty. Check out the shackles on this one.

Undecided on whether some of these are better at capturing the essence of Christmas or of jail.
This one is never getting out.
Some are practically optical illusions and ignite the imagination by transforming before your eyes. This one, for instance, is a cube from one angle and sphere from another.
You can create mesmerizing effects with even simple designs, like these two that look like snowflakes from a distance, until you realize it's Yoda and Miley Cyrus twerking.

What is sort of nice about the holidays is that time comes at you from all angles. Waves of nostalgia meld with aspirations for the future. These glow-in-dark snowflakes are reminiscent of the glow in the dark solar systems stickers from way back when.
And the Gyrornament featured here will take you back to 1997's Contact with Jodie Foster.

Of course it's hard to know what's more futuristic and ancient than Daft Punk.
These ornaments are all pretty spectacular, but without a star topping the Christmas tree, you get to feeling something is missing. Here a few printable options for a fully decked out tree:
For the household that appreciates fractals, this Koch snowflake can double as a tree topper, or simply as infinity.
Better yet, if you're handy you can print and assemble an augmented rhombicuboctahedron. This one is fixed up with LED lights.

And if you're not so handy, but have leanings toward videogame nostalgia, there's a star for that too.