3Dprinter4u introduces Builder dual extruder 3D printer
06.11.2013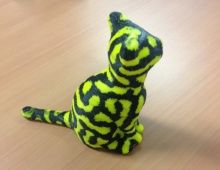 3Dprinter4u, webshop of Dutch company Code-p West BV is set to introduce a fully-assembled Builder dual extrusion 3D printer at the 3D Printshow in London Nov.7~9, 2013.
Two extruder setup with a single hot-end combining nozzle allows you to print 3D objects in two different colors, you can also just use one extruder to print the object while the other extruder prints support structures.
The Builder dual extruder is equipped with a display and SD memory card. The price is EUR1,575 plus VAT.

Printing Volume approx: 220x210x175mm (LxWxh)
Material Frame: sturdy powdercoated steel
Frame Colours: Red, Black
Print Bed: removable
Material: PLA 1.75 mm, PVA
Layer resolution: 0.05 mm - 0.35mm
Extruder: CNC produced extruder with bearing
Software: opensource, Repetier
Power needed: 120 watt
Printer dimension: 385x370x400 mm (LxWxh)
Weight: 16kg