3DPrinterOS and 3Dponics team up to offer 3D printable DIY hydroponics system
14.11.2014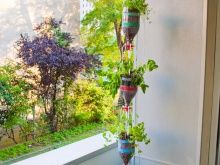 Cloud-based 3D printing operating system 3DPrinterOS and 3Dponics Inc. will be collaborating to include 3Dponics' open-source DIY 3D printable hydroponics system as part of the upcoming launch of 3DPrinterOS. All of the digital files and instructions required to build the system will be preloaded to 3DPrinterOS as a project users can access, share and print immediately.
3DPrinterOS is a standardized, usable OS for all 3D printers. With many 3D printer manufacturers offering complicated machine specific operating systems, 3DPrinterOS' cloud-based 3D printing operating system will allow centralized command and control by supporting a number of popular 3D printers (Makerbot, Ultimaker, and some RepRap models). 3DPrinterOS' cloud interface will allow users to access slicing, workflows, and manage multiple printers, through one single standardized platform. Users will also be able to stream designs directly to 3D printers without exposing source files to 3rd parties.
3Dponics is a space-saving 3D-printable hydroponics system that allows users to grow their own food, follow a healthy lifestyle, support local agriculture and do something good for the environment. The 3Dponics team spent the past two years developing the system before launching it on Kickstarter in July 2014.

After being successfully funded and receiving tons of support from all over the world, the team is currently building an online community, where urban farmers can meet, help each other out, share ideas, collaborate, and post pictures and videos of their hydroponics systems.
Including 3Dponics as a stock project in 3DPrinterOS allows users to print the 3Dponics system directly from the 3DPrinterOS interface. "We're huge fans of the 3Dponics project and we wanted to give users access to files right away that can be printed to make a difference in their homes and across the world," said John Dogru, CEO of 3DPrinterOS.
3DPrinterOS offers Mac/Windows/Linux and Raspberry Pi access to the 3Dponics project. Their growing list of supported printers gives current and future 3D printer owners' instant access to printing the 3Dponics project components. 3DPrinterOS will allow owners of multiple 3D printers to queue up and print the entire 3Dponics project on their various printers in a single process. With users being able to share their 3D printers via 3DPrinterOS, the hope is users can also help their friends and family complete their very own 3Dponics projects as well.
This collaboration, between 3DPrinterOS and 3Dponics, is expected to exponentially increase the number of 3Dponics users. "3DPrinterOS integrating our project files is hugely positive," said Michael Golubev, 3Dponics Founder and CEO. "Soon, tons of people will have 3D printers inside their homes, so it's crucial these people have access to meaningful, sustainable projects—ones that benefit themselves, the public, and the environment. The way we see it is, eventually, anyone using a 3D printer, whether it's a Makerbot, Ultimaker or Leapfrog, will have the ability to access 3Dponics via 3DPrinterOS, and that's what we want. It's an open source project: the more people who know about it and build it, the better."