Additive Technology in Manufacturing: Presentation by Alexey Karfidov, Co-founder of Karfidov Lab
15.08.2019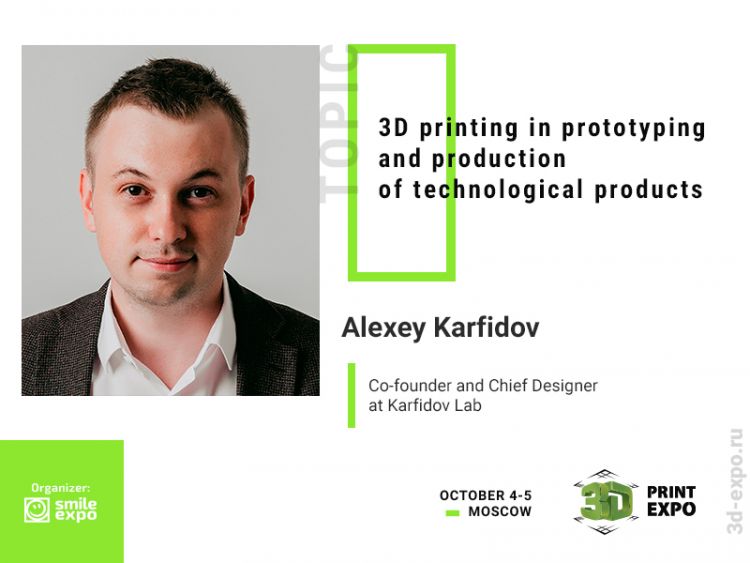 How to create device prototypes using 3D printers? Can FDM printing replace conventional technologies used to make technological products? These issues will be revealed on October 4 at 3D Print Expo by Alexey Karfidov, Chief Designer at Karfidov Lab.
Speaker's presentation: 3D printing in prototyping and production of technological products.
Key points:
experience of using SLA printing to produce small volumes of prototypes and molding into silicone molds;
preparation of printed items for master models to put them into silicone molds;
application of SLS printing in fast (super-fast) prototyping;
FDM printing instead of traditional manufacturing technologies;
application of additive technologies in the end device production.
Alexey Karfidov is an expert in R&D management. Earlier, he was a lecturer at the National University of Science and Technology MISiS (Moscow Institute of Steel and Alloys) and the head of the design engineering department at the Center of applied physics at Bauman Moscow State Technical University.
The expert is Co-founder and Chief Designer at Karfidov Lab, a design engineering bureau engaged in engineering design, project planning, and development of manufactured goods. Its representative offices are located in Moscow, St. Petersburg, and Yekaterinburg.
Alexey took part in the implementation of bureau's all prominent projects. They include the development of a torch for the Winter Olympic Games in Sochi, Composer 3D printer, multi-purpose autoinjector 'Komarik', ExoChair industrial exoskeleton, smart shoe sole dryer, drone landing and recharging systems, Nimble helmet, and bio scanner. Karfidov Lab has brought into life more than 200 projects.
---