Additive Technologies in Construction: Peculiarities, Advantages, and Prospects
25.09.2019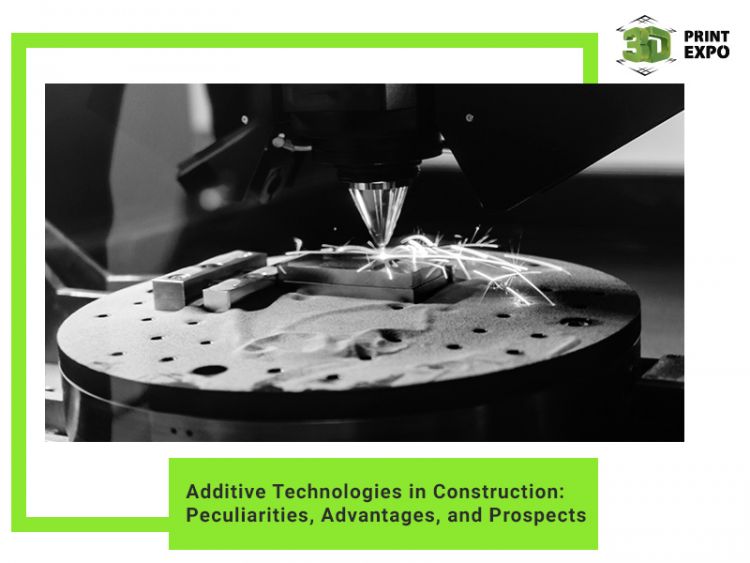 3D printing has been used in the construction sector for years. Earlier, 3D printers were used to build prototypes and models of different buildings and facilities. Today they act as full-fledged specialized equipment. Such machines allow printing real dwelling houses or standalone elements of a building in the shortest time possible and with minimal investments.
How is 3D printing used in the construction sector today and what prospects does the technology have?
3D printing in construction: peculiarities and advantages
The world population is steadily growing. For this reason, many countries face the problem of the lack of residential property. One of the ways to solve it is to use 3D printing in the construction sector.
Currently, additive technologies allow producing a wear-resistant building in the shortest term, which will serve its owner for many years. To construct facilities, specialists use different 3D printers that deposit concrete layer by layer and form walls, floor, ceiling, and other elements of a building. To print buildings, specialists use clear concrete or mixtures of cement with different materials: sand, glass fiber, plasticizing agent, etc.
3D technologies in construction: experience of different countries
Entrepreneurs of different countries have already realized all the advantages of additive technologies and actively use them in construction. Many companies produce and sell specialized equipment that prints buildings. Some of them are WinSun (China), Countour Crafting (the USA), WASP (Italy), AMT-SPECAVIA (Russia), and Vector (Ukraine). 3D printed buildings can be found in Russia, Ukraine, the USA, Japan, China, and other countries.
Examples
Irkutsk-based startup Apis Cor led by Nikita Chen-Iun-Tai developed a 3D printer intended to construct buildings. Its keynote characteristic is mobility. The machine is easy to transport from one place to another and mount on any surface. Besides, the machine does not need special assembling. The printer can construct a building with a total area of 100 square meters in one day.


Apis Cor was used for the first time to build a house in Moscow suburbs in 2017. Its area is 37 square meters. Walls, partitions, building lining were built in a day. Construction cost reached over $10,000.
An eight-meter long concrete bridge was built using a 3D printer in Amsterdam. It is made of 800 layers of armored concrete. The bridge construction can sustain the weight of 40 heavy transporters. Besides, cabins intended for the citizens to have a rest were 3D printed with bioplastics in the Netherlands.
WinSun Shanghainese company printed the first ten dwelling houses back in 2014. Later, it constructed a five-storey building using additive technologies.

In Dubai, the Office of the Future was built using a 3D printer with an area of 250 square meters. Around $140,000 was spent on its construction. This one-storey building is used as headquarters of Dubai Future Foundation.
In 2018, people for the first time ever settled in the 3D printed one-storey house in the French city Nantes. The total area of the five-room building is 95 square meters. The process of construction took just 54 hours. The building is estimated at around $212,000, which is 20% cheaper than an analogous house built in a traditional way.
Prospects of 3D technologies: what to expect in the future?
It is forecasted that around 5% of all buildings will be constructed using 3D printers starting from 2025. Today a number of countries have already launched different projects intended to 3D print residential property.
For example, the Dutch city Eindhoven plans to build a whole quarter of 3D printed houses. Houben & Van Mierlo Architecten and the Eindhoven University of Technology are realizing the project.
In the USA, ICON developed the technology that allows printing residential houses worth just $4,000. It is 10 times cheaper than buildings constructed using traditional methods. A mobile 3D printer Vulcan is used to erect facilities. The first house was built with its help in Austin (Texas). In the long run, there are plans to build cheap houses in poor areas using this technology.
In Dubai, a plan for the implementation of 3D printing technologies was approved at the governmental level. It is expected that thanks to its realization, 25% of all new buildings in the city will be built using 3D printers by 2030.
Conclusions
3D printing is integrated into the construction sector throughout the world and already has impressive successes. However, it is clear that the biggest achievements are to come. The reason is not only the level of development of the technology but also the cost of the production. This is why construction 3D printing requires state support and investments. In its turn, the industry will help to solve the lack of residential property without extra expenses.
---
CEO of Arkon Boris Kozlov will take part in lectures at 3D Print Expo 2019. He will make a report "3D printing in construction engineering: why the sector attracts investors in Russia". The expert will tell about the peculiarities of ceramic printing and direct metal printing (DMT), as well as prospects of their use in construction.