Airwolf 3D Unveils Their HDL 3D Printer for $2295
14.08.2014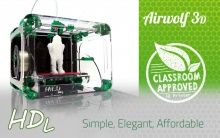 If you are looking to purchase a cheap 3D printer, then Airwolf 3D isn't the company you want to consider. If, however, you are looking to get your money's worth for a truly advanced machine, Airwolf 3D is who you may want to consider dealing with. The company has produced several 3D printers over the last couple years, all price well north of what many other brands charge. With that said, what separates Airwolf 3D printers from the majority of lower priced machines, is that their machines target the prosumer market, rather than the typical hobbyist. Quality costs money, in general.
Today Airwolf 3D has announced yet another high quality 3D printer, the Airwolf HDL. The HDL which will be the company's entry-level machine, will join the rest of Airwolf 3D's lineup of printers, ranging in price from $2295 to $3995.
"The AW3D HDL is not a toy for hobbyists," stated Erick Wolf, Airwolf 3D founder and chairman. "It's a serious professional 3D printer built in response to customers asking for a high-quality unit at an aggressive price point. The only difference between it and our most advanced 3D printer is the absence of technically advanced features, which can easily be added as needs and budgets dictate."
At $2295, this printer is the most affordable the company has to offer. With that said, it uses the same basic technology, and prints in a quality very similar to that of their other higher end machines. What's great about all Airwolf 3D printers is the fact that they are extremely versatile, allowing component upgrades, to keep pace with the rapidly advancing 3D printing industry. This is not a printer which will be outdated within a year. You will always have the option to upgrade various features of the machine such as the the hot-end, as well as the ability to add dual hot-ends. Some of the general specifications of this printer are listed below.

Build Volume: 1,150 cubic inches (12" x 8" x 12")
Printer Speed: 150 mm/s
Layer Resolution: 0.08 mm
Nozzle Diameter: 0.5 mm
Max Extruder Temperature: 260C
Filament Compatibility: Biodegradable PLA, Soft PLA, LayBrick, LayWood, BronzeFill, TPE, TPU filaments.
"The HDL continues our commitment to providing a wide selection of 3D printing solutions," added Mark Mathews, Airwolf 3D president. "The HDL now effectively complements the HD, HDx and HD2x models which top out at $3,995.00 and serve to provide our growing reseller channel with the broadest product line in our space."
Certainly Airwolf 3D is setting themselves up to become quite the force within the prosumer market of 3D printers. The HDL is sure to please consumers, and is affordable enough to even creep its way into the higher end consumer segment of the market. The printer is available on their website immediately, and will have its first public demonstration at the 3D Printer World Expo in Seattle on August 22nd and 23rd. Let us know your thoughts on this new machine in the AW3D HDL forum thread on 3DPB.com. Below is a comparison chart for all the printers offered by Airwolf 3D: