1 + 1 = 3: Celebrating the Moscow City Day! Best Price on Tickets to 3D Print Expo
29.08.2019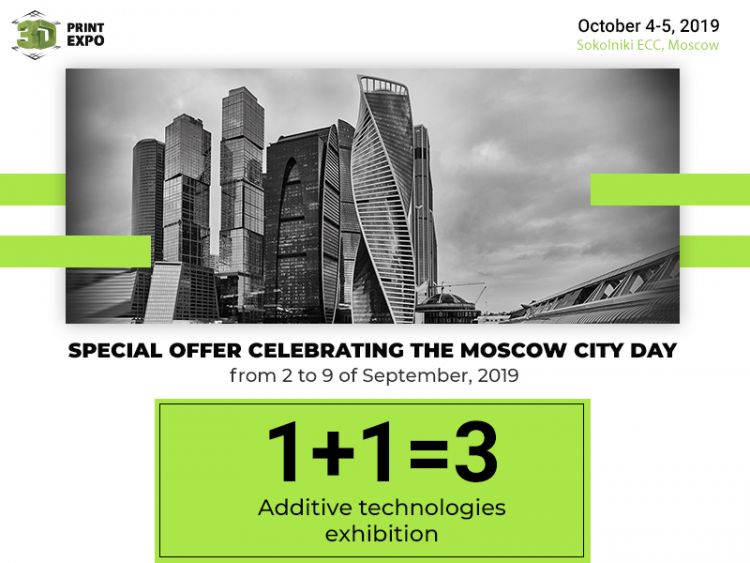 Celebrating the Moscow City Day, we decided to drop the prices on registration to 3D Print Expo, as well as participation in 3D printing and scanning workshops. Hurry up, the offer stands from 2 to 9 of September.
Special offer: 1 + 1 = 3! Buy two tickets to the additive technologies exhibition and get the third one as a gift. Within the discount period, three tickets will cost you just 999 RUB, thus 333 RUB for one.
Registration provides:
a two-day access to the exhibition area;
a possibility to attend lectures and get presentations;
an access to 3D printing workshop;
the right to attend an art gallery with 3D objects.
---

In addition, the promotion allows you to buy one ticket to a 3D printing and scanning workshop at the price of 3000 RUB (45% discount). Workshop participants will learn the basics of 3D printing and scanning, print an object using a 3D printer and ask any questions about the additive technologies. Seats are limited!
Special price: 3000 RUB.
The price on the day of the event: 5500 RUB.
Save: 2500 RUB.
Don't miss a chance to register at the best price: the offer is valid from 2 to 9 of September. The seventh exhibition of additive technologies – 3D Print Expo – will take place in the capital of Russia on 4-5 of October.