Aligning Form and Function with the flexFORM 3D Printer
03.11.2014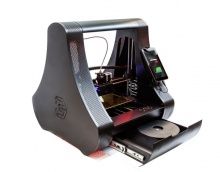 Perhaps reflecting Gartner's prediction that plug-n-play 3D printers would drive the coming consumer 3D printing surge, flexFORM is a new Polish 3D printer that promises plug-and-play capabilities to make desktop 3D printing as painless as possible.
According to 3D Proto, manufacturers of the device, "flexFORM is a 3D printer that anyone can use with ease." How does it do it? This desktop fabricator comes with automatic bed calibration. First developed by the RepRap community and now standard in most new low-cost 3D printers, this feature ensures that the printer's platform is level enough for proper printing.
In addition to the unobtrusive filament holder beneath the machine, flexFORM also has an autogrip mechanism, which feeds filament to the printer's printhead to prevent snags and tangles. On top of all of this, the machine uses a 7″ Windows tablet for sleek, untethered control of the printing process.
Outside of these features, the flexFORM has a 7.87 × 7.87 × 7.08 in (200mm x 200mm x 180mm) build volume, a heated bed, high precision bearings, and an aluminum case lined with LED lights, for a sturdy build and elegant appearance. All of this can be purchased for $1800. Watch 3D Proto's sleek promo video below: