Andrea Morgante Abstracts Peroni Beer Bottle into 3D Printed Shapes
29.07.2014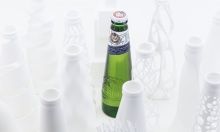 Italian architect Andrea Morgante of Shiro Studio has 3D-printed 25 versions of beer brand Peroni Nastro Azzurro's new bottle design. Each representation of Peroni's 25-centilitre Piccola bottle references different elements of Italian design and architecture, as well as Morgante's own childhood memories.
The objects, which were printed using white nylon powder, form part of 25.0 – an installation commissioned by M&C Saatchi and Peroni Nastro Azzurro. Morgante created a digital version of the Piccola bottle and manipulated the file 25 times, resulting in 25 different outcomes all of which represent Italian culture, creativity and heritage in some way.
One design references the Sacco beanbag by Italian furniture brand Zanotta. "My parents had one when I was a child and I have strong memories of that extraordinary piece of design," Morgante told Dezeen. Another bottle refers to the green tree shoots Morgante noticed growing from every Roman ruin. "It makes those ruins somehow still alive. And I see that only in Rome," he said.Morgante describes another bottle, with a dimple in one side and a corresponding protrusion on the other, as "a heartfelt homage to baroque sculpture."
"The first time I saw Bernini's Proserpina statue, where Pluto's thumb softly sinks in her thigh, one believes that marble is actually as soft as flesh," he said. "Such an amazing detail and plastic deformation." Other designs are patterned with holes in different shapes or are built from a series of blocks. One is simply created from two thin elements that trace the bottle's profile. On the decision to keep all the objects white, Morgante said: "The narrative is about the analogy between the shape and the specific symbolic reference."
"I didn't want the texture or colour to distract from this message, so the choice of white, or rather lack of colour, was to enhance the visual perception of the bottles and their form. The achromatic choice also ties all 25 bottles together." 25.0 was previewed at the beer brand's House of Peroni London pop-up space in May, before being shown at the city's Design Museum in June as part of a wider exhibition curated by Morgante.