Android KitKat partners with Nestlé creating first ever 3D-printed chocolate show
12.11.2013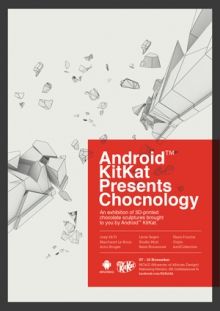 Android is the operating system that powers over 1 billion smartphones and tablets. Since Android 1.5, Google has named each version of the OS after a sweet: Cupcake, Donut, Eclair, Froyo, Gingerbread, Honeycomb, Ice Cream Sandwich, and Jelly Bean. "As everybody finds it difficult to stay away from chocolate we decided to name the next version of Android after one of our favorite chocolate treats, Kitkat," said Google.
For KitKat name Google has tied up with Nestle, which makes KitKat chocolates. Nestlé has always been about Good Food, Good Life. To celebrate this philosophy in South Africa, along with the announcement of Android KitKat, Nestle wanted to give the country 'a break' with a 'Chocnology' exhibition. Nestle commissioned 10 of South Africa's hottest creative talent to design original sculptures made entirely out of chocolate - 3D printed chocolate.

"The coming together of two very different worlds – chocolate and technology – inspired the idea of creating chocolate artwork made possible through the use of innovative technology," says Kevin Corlett, Business Executive Manager, Chocolates at Nestlé.
In essence, all designs were created using the Android operating system and freely available online 3D modelling tools. To produce the artwork, a 3D printer that traditionally uses a plastic-based filament was manipulated to use chocolate as its raw material, allowing the creation of intricate, three-dimensional sculptures.
Tech analyst Liron Segev, Dale Halvorsen's illustration alter-ego, Joey Hi-Fi, Studio Muti's Mine Jonker, and talents from Am I Collective, and Orijin were among those putting their creative minds towards the 3D-printed artwork challenge.
"Nestlé wanted to showcase pure South African talent. So we looked at a variety of local creative individuals from varying backgrounds. Illustrators, 3D artists, architects, book cover designers and chocolate technicians made up the final artist line-up," says Ryan McManus, executive creative director of NATIVE VML, digital agency of Nestlé South Africa.
These chocolate artworks will be seen at the Museum Of African Design (MOAD) in Johannesburg's Maboneng Precinct from Thursday 7 until Sunday, 10 November 2013.