Is Apple Secretly Developing A 3D Printer?
20.05.2014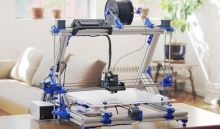 Apple (NASDAQ: AAPL) hasn't announced a new product since October 2013.
At that time, the iPhone empire introduced the iPad Air and iPad Mini with Retina Display.
Last month, the company refreshed its MacBook Air lineup with a minor processor tweak and a notable price cut.
Many are waiting for Apple to release the so-called iWatch. Others are hoping for a full-fledged TV set.
Apple could be developing a revolutionary pair of ear buds that can monitor a person's heart rate and blood pressure. The company may also acquire Beats Electronics and enter the premium headphones market.
Trip Chowdhry, the Managing Director of Equity Research at Global Equities Research, has another theory. He believes that Google (NASDAQ: GOOG) is working on an all-in-one 3D printer project. The project could be announced in June or October, followed by an actual release in 12 to 18 months.
As if that weren't interesting enough, Chowdhry also thinks that Google started working on its all-in-one 3D printer after learning/predicting that Apple is about to enter the space
This isn't the first time that Google and other tech companies were thought to have made a preemptive strike against Apple. For example, Samsung, Google and other tech companies announced that they were developing a smart watch after rumors claimed that Apple was developing a device called the iWatch.
"It's either Apple or Microsoft [that inspired Google]," Chowdhry told Benzinga. "But developers feel that Apple is probably the focus for Google because Google considers Apple to be its prime competitor, not Microsoft. And Google really sees Apple to be a strong competitor, not Microsoft, because Microsoft has a lot of issues to worry about."
Several years ago, Apple actually made its own traditional printers. Critics argue that the company will never go back to that industry, but who's to say it won't develop a 3D printer?
"Apple does have intellectual property [in that space]," said Chowdhry. "And they often have more expertise in hardware development than, say, Microsoft has."
Chowdhry also believes that Apple could use PrimeSense (which it acquired last year) to enhance its all-in-one 3D printer initiative.