An Architect Plans to 3D Print a Home Using His Own Designed Printer
08.05.2014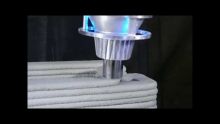 When it comes to 3D printing of buildings, it's quite obvious that additive manufacturing has not yet reached its peak. Although Chinese specialists are already printing small houses in record-breaking terms, its quality is still questionable. Architects from the Netherlands have also joined additive manufacturing technique – not so long ago we've reported about the Canal House project implemented in Amsterdam.
But today we'd like to tell you about Andrei Rudenko who aims to take 3D printing of houses on absolutely new level. Andrei has a huge engineering and architectural experience that will help him to construct two-storied house in Minnesota. Recently Rudenko has been involved into making a 3D printer of his own design that can print concrete buildings.
"Creating cheap houses in 24 hrs is not what I'm interested in," said Rudenko, "My current aim is to build small or medium-sized houses with good heat insulation on the construction site. My experience tells me that in order to prevent future problems, it's better to spend some time to make a good building than to crank out cheap ones. 3D printing can be used for almost entire house construction, including the footing, fireplace, columns, internal walls and piping."
Even though Chinese houses have been practically printed, in fact they are no more than just 'boxes'. Power circuits and water facilities are missing not to exceed 24 hours. Besides, Rudenko thinks that his method can secure workers from the noxious dust.
"My job is to conduct experiments extending 3D technology possibilities: printing various elements and structures, exploring new construction methods," said Rudenko.
His printer shows a great printing quality, without issues occurring when working with some other building printers.
Besides, Rudenko sees printing walls as part of the design exterior and interior elements.
"High printing quality ensures no need for further finishing and skimming," said Andrei.
One of his problems is getting a necessary construction licenses. 3D printing is not considered as a certified building method in Minnesota. So the idea would require some time and legal assistance.
The printer is based on the RepRap technologies, an open project that proves to be extremely popular within enthusiasts. Device looks like a giant Mendel printer replica and uses Arduino Mega 2560 adapter with bigger motors.
Rudenko plans to start two-storied house construction this summer. It includes a building of 10 х 15 meters floor space with heat insulation, water facilities, drainage etc. Before implementing this full-scale project he wants to practice, making a play castle for kids and check printer's possibilities, doing some adjustments along the way.
For the moment, printer can print layers of 20 mm width and 5 mm depth. Concrete filament is used as a material. Rudenko tells that making a concrete and sand filament extrusion process a worthy procedure has taken a lot of time.
"I'm not aware of any concrete filament that can harden almost instantly," said Rudenko, "But the existing ones harden good enough while layering in order to hold weight of the next layers. You just have to exclude vibrations or mechanical impact for the fresh extruded layers to stick. Weather can help – bright sun and a good wind reduce the time. My main challenge now is to make sure the extruder works reliably with a filament that is quite liquid. Although, the results are optimistic and I hope to continue upgrading the extruder and pump design."
Rudenko is certain that in time, 3D printed houses could become a construction standard and increase working teams operation efficiency.
"I don't think that 3D printing will totally replace previous methods. Usual materials and methods like brick laying will continue to exist," said Andrei, "3D printing will more likely become an important benefit. The technology aims to reduce construction price, improve working conditions and architecture flexibility. Instead of a whole team, two people will be enough to make printer work. One of them will supervise software and control operation, the other one – prepare filament for continuous operation."
If everything goes according to the plan and 3D printed house becomes successful, Rudenko's next step would be the printing of an energy-efficient house. Rudenko hopes that such buildings will help saving energy for heating and ventilation. How could it work?
"I've developed my own concept based on the neglected energy saving methods under the software control," said Andrei, evading a straight answer.
When it comes to the business aspect, Rudenko is just willing to prove his device efficiency. In case of success, he can sell printer parts for users to complete assembling themselves.