Artist 3D printed Vincent van Gogh's ear using relative's DNA
05.06.2014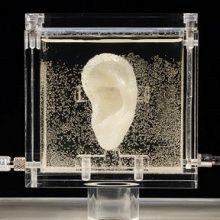 A German museum has put on display a copy of Vincent van Gogh's ear that was grown using genetic material provided by one of the 19th-century Dutch artist's living relatives.
Artist Diemut Strebe made the replica at Boston's Brigham and Women's Hospital using living cells from Lieuwe van Gogh, the great-great-grandson of Vincent's brother Theo. Lieuwe and Vincent van Gogh share about 1/16th of the same genes, including the Y-chromosome that is passed down the male lineage.
Using a 3D-printer, the cells were shaped to resemble the ear that Vincent van Gogh is said to have cut off during a psychotic episode in 1888, two years prior to his death in 1890.
"I use science basically like a type of brush, like Vincent used paint," Strebe told The Associated Press in a telephone interview Tuesday.
The U.S.-based artist said the ear is being kept alive inside a case containing a nourishing liquid and could theoretically last for years.
Convincing Lieuwe van Gogh to take part was easy. "He loved the project right away," said Strebe.
The original plan was to use genetic material that belonged to van Gogh himself. But DNA extracted from an envelope turned out to belong to someone else. "The postman messed it up," Strebe joked.
Still, work is underway with a female relative to include mitochondrial DNA — passed down the mother's line — for future installations.
The exhibition, at which visitors can speak into the ear through a microphone, lasts until July 6. "You can talk to the ear. The input sound is processed by a computer using software that converts it to simulate nerve impulses in real time." notes the museum The Center for Art and Media in Karlsruhe, Germany. "The speaker remains in soliloquy. The crackling sound that is produced is used to outline absence instead of presence."
But if you can't make it to Germany by July 6, don't worry, Strebe said she plans to display the ear in New York next year.