B-hold the Future of Coffee Mugs (Without Burning Your Fingers)
13.06.2014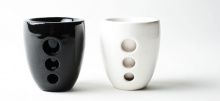 Some of the coolest 3D printed creations are made with ceramics and the best part about them is that they don't need to be incredibly intricate to be innovative. Sometimes they just look like simple cups and yet they could not have been made without using additive digital technologies.
Take the bholdable espresso tumbler by NYC based B-hold, for example. It's is intended to be an elegant ceramic mug that does away with the handle by using the air between the two ceramic layers as a buffer to keep hands cool and drinks hot. It also adds in three holes in the outer layer to place the fingers, while adding a touch of artistic creativity.
The same design already exists in glass but it was impossible to replicate in ceramics, until Susan Taing, B-hold's founder, did it through 3D printing. Her studio and online marketplace specializes in using 3D printing technologies to create objects that make life easier.
With her espresso tumbler she succeeded, so much so that the item, on sale through the B-hold online shop for $69,00 and available in five different colours (white, black, light blue, cobalt blue and light green) is also featured in New York's Museum of Arts and Design's (MAD) online store.