Barnacules Shows Netfabb's Utility by 3D Printing Giant Lego Darth Vader
17.04.2014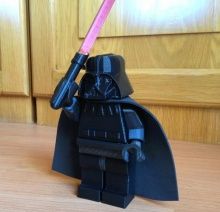 Just the title should fully contextualize this article: Darth Vader, Lego, 3D printing… Just how many fun (and nerdy) things can we fit in one sentence? Barnacules Nerdagsm, a Microsoft software developer by day and nerd YouTube star by night, has undertaken a new project involving 3D printing with his Ultimaker 2.
With his unique charm and clear, direct instructions, Barnacules explains how Netfabb can help adjust a 3D digital model for 3D printing. All you need to do is apply the automatic repairs and export the STL file. After each single part was run through Netfabb he set it up inside the Ultimaker print bed through the Cura software at 0.2 mm layer height.

The YouTube video also includes a sped up session of the entire 3D printing process, bringing the giant Lego Darth Vader to life with mellow ambient music (Crashhed by Stereofloat) in the background. For any Star Wars and Lego fans this could almost be described as a mystical experience, or maybe a "nerdgasm". Check it out.