CEL introduces Robox 3D printer, a Robot in a box
25.11.2013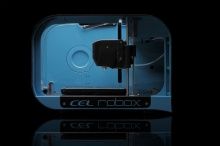 British product development company CEL today introduces Robox, an affordable 'plug and print' 3D printer.
Robox features dual-nozzle printing and bed-levelling technology.
It has one 0.3mm nozzle for printing a highly detailed surface, and the other 0.8mm for fast-filling. This feature is claimed to be able to print considerably faster than other printers with only a single nozzle system. The company has also added a HeadLock system to the Robox's print head which means in the future it can perform some new functions such as stylus cutting, paste deposition or 3D scanning with different tools.

The bed probing mechanism can automatically detect and correct the build platform to ensure it is always parallel and the first layer adheres evenly from the start.
Additionally, the closed feedback loop, dual-pinch-wheel extrusion system, could make sure that the printing material is fed to the printer head evenly. The filament is fed to the head by two indexed contra-rotating feed wheels which are powered by a worm & wheel gearbox. The company says this arrangement could eliminate the possibility of slippage or 'stripping' of your filament. The filament extruder incorporates a closed-loop feedback system which monitors the motion of filament as it enters the extruder. The software can pause the print if any error is found, allowing the user or firmware to rectify the problem without ruining the entire print. Then the user can restart the print and it will continue from where it left off.

The "SmartReels" recognizes every reel of official Robox material which has a chip storing all the info about the reel. It tells the printer how much filament remains, warns the user that there may not be enough to complete a job.
There's also an enclosed build chamber for stabilising the printing environment. A replaceable print bed is constructed from PEI laminate material, which requires no tape, glues or special preparation. You also easily switch to alternative beds e.g. a stylus cutting mat, milling fixture system or turntable for the 3D scanning head.
Rather than bundle Robox with the usual selection of Open Source software, CEL has developed AutoMaker software tailored for its firmware and hardware. AutoMaker guides you through the steps of preparing a model for printing from choosing your model, placing it on the print bed(move, rotate, scale) and quality setting to click print.
Robox is looking to raise £100,000 of Kickstarter funding to generate interest and support the final development of the product. Robox will launch in the UK and US in early 2014 at a RRP of £849/$1,364. Though early supporters will be able to pre-order one for £700/$1,126.