CES 2014: 3D food printers create sweets and chocolates
11.01.2014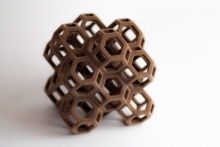 Two food-creating 3D printers that will launch later this year have been unveiled in Las Vegas. The machines make chocolate and sugar-based confectionery shaped in ways that would be difficult to produce using traditional methods.
The smaller one, Chefjet, is limited to monochrome creations, but the larger Chefjet Pro can create multicoloured objects. However, experts said their prices would be likely to limit sales.
The basic version will cost about $5,000 (£3,000) and the more advanced one double that price. US firm 3D Systems is showing off the machines at the Consumer Electronics Show (CES) in Las Vegas.
It also has a new $10,000 model that prints ceramics and another $5,000 one that creates multi-coloured plastic objects. Until now one of the most common uses for 3D printers within these price ranges has been rapid prototyping - the creation of models used to envisage the look of a design rather than to make products that could be put on sale themselves.
Sugar photographs
3D Systems developed its new "food-safe" models after taking over a Los Angeles-based start-up in September, which had customised one of its machines. Both models can print using chocolate, or sugar infused with vanilla, mint, sour apple, cherry and watermelon flavours.
The larger one has the advantage of being able to create "photographic-quality" pictures by mixing together different ingredients that can then then be wrapped around cakes and other surfaces. The designs are built using a layer-by-layer printing process. Sweets are created by spreading a fine layer of the flavoured sugar, and then painting water on top using a jet print head to turn the substance into hardened crystals.

The printer is able to create sweets in designs that would be difficult to achieve using other processes
The process is then repeated to make the resulting edible objects, which can even have moving parts. The firm is also releasing Digital Cookbook, an app to help customers - who might not be experts in computer-aided design - make such treats .
3D Systems is not the only company expanding into this area.
Natural Machines, a Spanish start-up, recently unveiled a prototype called the Foodini that can create chocolates and ravioli pasta among other choices. Nasa has given funding to the founder of a Texas-headquartered engineering firm to build a food printer that could be used by its astronauts.

And British start-up Choc Edge is already selling a printer that can create chocolate printed patterns. However, 3D Systems' machines would be the most advanced of their kind to become commercially available.
Printing rivals
The South Carolina-based company is a pioneer in its field. Its founder, Chuck Hall, was granted the first patent for the Stereolithography additive manufacturing process on which the 3D printing industry was built in 1986.
Until recently it and Stratasys - a US firm that owns the Makerbot brand - had little competition since many of the technologies they used were patent protected. However, several of these patents have now expired, letting others enter the industry. This year there are about 30 firms exhibiting 3D-printing tech at CES, putting pressure on the more established players to innovate.
"A lot of the start-ups are producing variations on the themes already out there: variations in accuracy, in speed, and the types of plastic that can be used," said Duncan Wood, publisher of 3D printing-themed TCT Magazine.
"But there's no doubt that 3D Systems remains the dominant player in the market thanks to the range of the machine categories it offers and the size of its R&D team. And with the new products over here at CES they've really stolen the show in many ways." While some of the smaller players may be happy for now to focus on less advanced but cheaper models, one expert at the tech show was not convinced their products would find mass appeal at this stage. "At the moment where we are at is comparable to the early 1980s when the odd person had a dot matrix paper printer but most people went to a shop to print their documents," said Stuff Magazine's deputy online editor Stephen Graves. "And that what's happening with 3D printing. "At the moment all you can really do is rapid prototyping with the plastic-using low resolution ones available on the high street. They're more of a curio more than anything else."