What is Direct Metal Laser Sintering?
05.12.2017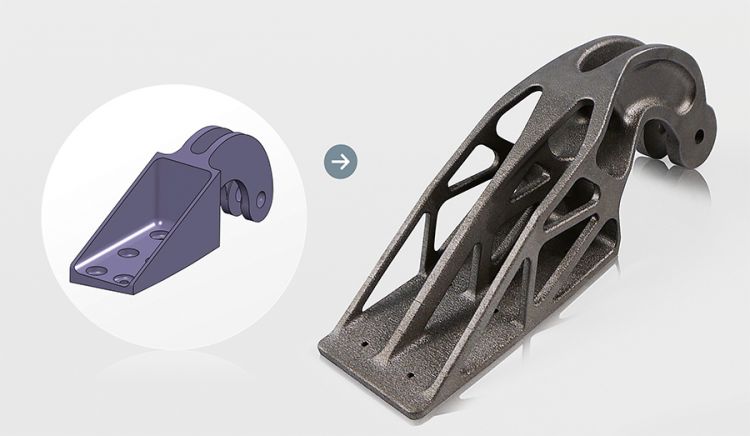 Today there is a huge variety of three dimensional printing methods. Gradually we introduce you to the features, advantages and disadvantages of each of them. The subject of this article is DMLS.
DMLS stands for Direct Metal Laser Sintering. The technology was developed by a German company EOS.
To make a model of the future object, STL format 3D models are used as illustrations. In computer processing, the model is virtually divided into layers with a thickness that the 3D printer can work with. As a result, the operator creates a file with a certain set of drawings for printing.
Technology
Heating elements for sintering are fiber optic lasers with a power of 200W. To achieve higher performance, lasers with increased laser beam speed can be used.
How does it work? Powdered metal consumable enters the working chamber in the amount necessary for printing one layer. A special roller levels the powder evenly on the entire surface, while removing excess material from the chamber. The laser than sinters fresh material with the existing layer according to the original model. This process lasts until the object is completed.
A special feature of this method is high printing resolution (up to 20 microns). In comparison, household printers' resolution can reach 100 microns. In addition, there's no need to create support for the overhanging details of the structure when printing. The leftover powder remains in the work chamber, therefore all layers except the first one have a supporting surface.
DMLS advantages and disadvantages
Any technology obviously has its positive and negative aspects. In our case, there are more benefits to it.
Advantages of the method:
You can print items of any geometric complexity;
When compared to injection molding method, DMLS objects are lighter;
High strength of manufactured items;
Low price of printing;
Non-waste production.
Disadvantages of the method:
Compared to similar methods, the printing speed is lower;
A limited number of 3D printers support it.
Application
Direct metal laser sintering technology is used for making small and medium-sized objects for dentistry, medicine, and space-air industry. The method is very convenient for fast prototyping, manufacturing small batches of goods or products of complex geometric shapes.
Consumables
Practically any metal or alloy in powder form can be a consumable for DMLS. Among most commonly used are cobalt and chromium alloys, stainless steel and others.
Subscribe to the news of 3D Print Expo 2017 on Facebook and VK!