Colour Me Rad With New MakerBot Photochromatic Filament
25.06.2014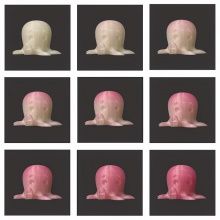 There is a new trend sweeping across the world, a trend that sees colouring as the ultimate expression of fun and excitement: the Colour Me Rad 5K races. People run and get blasted with coloured cornstarch and – apparently – changing colours is enough to put everyone in a great mood. Now MakerBot wants in on it too, with its new light responsive Photocromatic PLA filament.
Thermochromatic filament (which reacts to heat) has been around for a while but the new MakerBot filament changes colour when exposed to UV rays and changes back when not in direct sunlight. It starts out in "boring" white and then just explodes with colour when you take it out in the sun. Seems like the perfect filament for the summer time, but even during a cloudy day you could just shine a flashlight on it to activate the colour change.

The first two colours available are blue and magenta, in large $65 (2.2 Kg net weight) or small (0.9 Kg) $25 spool sizes, the same basic pricing as all other MakerBot filament which is not exactly a bargain though it is guaranteed for optimum performance on your MakerBot 3D printers.