Creative 3D Printed Decorations For Your Office
22.11.2013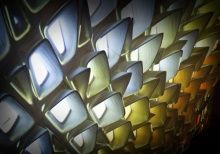 Polish company Platige Image together with Bridge has developed an amazing interactive sculpture called BIOSTAGOG uniting the algorithmic design, 3d printing, cartography and animation.
The challenge was to decorate Platige Image's headquarters vestibule in Warsaw. "The idea was to create a huge canvas that each Platige artist could contribute to. In addition, visitors are welcome to do this as well", said Creative Director of Bridge Mikolaj Molenda. Both parties have been massively involved into the project. The initial idea belongs to Platige Image, acting as a customer and part of the team.
Installation shape has been developed by the special Grasshopper algorythm. Using such algorythms allows designers to crreate complex shapes and make running analysis of each version.

"We decided to use 3D printing because it provides high resolution of details. Direct connection between physical realization and digital model is crucial for the interactive display, while working with such kind of a complex structure", said second Creative Director of Bridge Mikhal Piaseckij.
The installation consists of 3160 elements divided by 800 panels for the process of printing.
ZMorph printers (based on the popular RepRap devices) with 0,5 mm 5-pin extruder supplying the material have been used for printing. 5 machines have been operating non-stop 24/7 during 3 months to make it happen.

Video shows the process of creating the multilevel structured animation, responding to external information generated in the real-time mode by people's behavior – and that's what attracts everyone's attention.
"Installation displays behavior of people in the hall. You can influence the imagery that is mirroring your silhouette when you're standing in front of the screen", commented Head of the R&D Department Adam Vershovski.