Creative contest from 3D Print Expo continues!
15.08.2014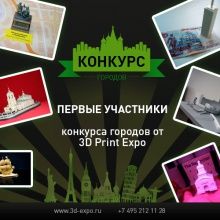 In early July, the largest exhibition of advanced 3D printing and scanning technology in the CIS and Eastern Europe 3D Print Expo announced on its website the launch of "City Contest" that is confined to event to be held in October in Moscow.
Organizers invited artists, designers, sculptors and simply creative people who have their own 3D printer and can print landmarks of their native cities.
Next, participants were required to make a photo of their work and send it and attached questionnaire to organizers.
"City Contest" immediately elicited responses. Therefore, we are pleased to introduce you our first members, who creative works will be displayed in September, when the vote in the social networks will start.
So, meet top three contestants, who shared their creations with 3D Print Expo:

Vladimir Bondarev (shared image of 3D printed Kuznetsk fortress, this is one of the historical and architectural monuments of federal significance in the city of Novokuznetsk, Kemerovo region);

Elena Romanova (printed model of "Goto Predestination" - ship museum, located in the Voronezh Reservoir);


Sergey Smirnov (for the competition Sergey created two 3D objects: retail and office center "Demidov Dvor", located in the center of Yekaterinburg, and Holy Transfiguration of Christ (Orthodox) Church in Moscow that was destroyed in 1964).
In our turn we want to thank the participants for their activeness and we want to remind that photographs for "City Contest" will be accepted up to September 5, 12:01 pm inclusive.
So do not miss the chance to participate in this creative and innovative contest, because winners will get a unique opportunity - to present their own stand (9 sq.m.) at the main industry event of the year - 3D Print Expo to be held on 23-25 ​​October 2014 in ECC "Sokolniki".