Desktop 3D Printing- 5 Trends That Will Impact the Industry
07.08.2014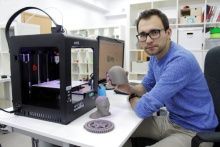 The desktop 3D printing market is changing rapidly with new 3D printers being developed, updates taking place and new start-ups coming up, every few days. With so many developments taking place in the 3D printing industry, it is necessary to know which of them can actually be beneficial for use. Currently, there are some trends in desktop 3D printing that can have a major impact on the industry and almost change it fundamentally. We have created a comprehensive list of 5 major trends that are going on in this industry.
Trends for Desktop 3D Printing
Tool Chain Software

Earlier, the software required to run a 3D printer, check files and slice the print, was really slow. Multiple packages, most of which were complex and unstable, were required to run the printers. Now, the 3D printing software is making huge advancements. This will make the use of the software easier, which means more people will opt for desktop 3D printing and create their own stuff.

The focus is now on large delta 3D printers. With the delta printers, the 3D printing head is lightweight and moves quickly as it remains suspended from 3 arms inside a cylindrical chamber. The development of this architecture is significant as they might be able to displace the current 'gantry architecture'. In case of deltas, the 3D printing process will be quicker and more precision will be there than the current system.

With filament recyclers the cost of a 3D printing filament will be reduced significantly and the entire process will be more environment-friendly. People will be able to recycle the products at home and many more businesses will be able to start using this technology, thereby expanding the desktop 3D printing market as a whole.

Mastering CAD takes 2000 hours. So, right now, we cannot imagine a world where 3D printing and CAD go hand-in-hand. However, software like 3Dtin makes the process an easier one. Many free tools that are used for 3D printing are currently being developed by Autodesk. With these developments, people will be able to get hold of apps which can make desktop 3D printing quicker.
Development of Parts instead of Entire Printers

This is one of the trends which are currently going on in companies which are into the development of 3D printers. Many companies like Structure3D are now focusing on developing parts of the printers instead of building the entire printer. The desktop 3D printing market will change drastically as different companies will be specializing on the development of different parts of the printer and the end result will be a whole lot better.
If you are interested in desktop 3D printing, these trends will definitely be helpful for you.