Doctors use 3D printing to aid successful open-heart surgery on four-year old
11.03.2015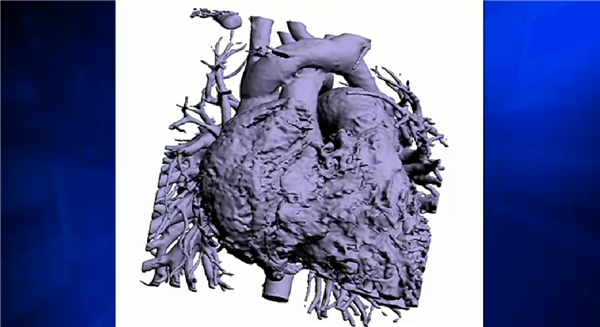 Born with a heart condition that resulted in her having two open heart surgeries before the time she was even four years old, Adaenelie Gonzalez, a four-year old from Miami, Florida in the United States, recently underwent her third heart surgery last week. However unlike her previous open heart surgeries, the use of 3D printing enabled doctors to perform a third open heart surgery last week that may just be her last.
Gonzalez's condition, which prevented blood from properly flowing into the heart from the lungs (also known as anomalous pulmonary venous connection), caused her to experience erratic and severe breathing problems. Sadly, the four-year old has spent much of her young childhood dealing with the condition and going in and out of the hospital for efforts to control it. At one point, the doctor's even said that they were out of options.
"I seriously, I kind of lost hope. I didn't think there was anything that was going to be able to help her," said Gabriela Alonso, the Gonzalez's mother.

Thankfully, a team of pediatric medicine professionals from Miami Children's Hospital were able to scan Gonzalez's heart and produce a 3D printed model, which was used for surgeons to study the condition.
Creating an anatomically-correct 3D print of a patient's heart is far from your run-of-the-mill 3D printing project, however. Preparing the files took the team up to ten hours before sending them toAdvancedRP, an Atlanta company north of Florida, who then 3D printed the complex heart model over a 24-hour period using Stratasys 3D printers.
"I said that's beautiful, I can plan an operation with this. I think I can save her because I can see what her heart's going to look like when I open her up," said Dr. Redmond Burke, Gonzalez's lead heart surgeon.

Among other benefits of having a scale model of the heart, the surgeons were able to practice manipulating the blood vessels and exploring all of the possible repairs without having to operate. After further studying the 3D printed heart model, the surgeons were then able to create a map of every nerve and artery before attempting their third open heart surgery on the four-year old.
The use of the 3D printed model was critical for the surgery's success in part because the team had never done the surgical procedure before. Without properly training themselves, the doctor's ran the possibility of tragically killing the young girl if any steps in the surgery went awry. Even though the doctors were previously able to study Gonzalez's condition using traditional two-dimensional scans, the data proved to be not as informative as they needed for operating.
"I wasn't going to operate on her based on the data that we already had," said Burke.

He even compared the use of a two-dimensional image to a 3D printed model to teaching somebody how to throw a football, adding:
"It'd be like saying, 'OK, I'm going to teach you how to throw a football by handing you a picture of a football. You can look at it all day long and until you have a football in your hand, you're not going to be able to figure out how to throw it and how to throw a football."
Thankfully, the ability to study the 3D printed model of Gonzalez's heart proved to be an invaluable tool before heading into the surgery last week. Already, Gonzalez is out of the bed and moving whereas before the surgery, she could barely move and had months - if not weeks - to live. Thanks to the surgery, Gonzalez is at least expected to live through her teenage years.

"To me, it's amazing. I honestly didn't think it was going to be possible. She's been through so much," Gonzalez's mother added.
Thanks to the success of Gonzalez's surgery, Miami Children's Hospital plans on using 3D printing in the future for other surgical procedures.
"She's just had an phenomenally accelerated recovery," Burke added. "The fourth day after surgery I envisioned her still being on a breathing machine in the ICU getting massive amounts of medication, but she was anxious and awake ready to get to the playroom today."