Eat Your Heart Out: Chocolate Mini-You's from Rococo, iMakr & Harvey Nichols
10.04.2014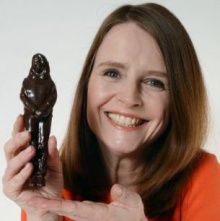 Famous UK chocolate maker Rococo has decided to make a sweet deal with Harvey Nichols and use iMakr to deliver Mini-You's in edible form. The Mini-You has been popular and embodies the fantasy of the kid in all of us to have our likeness made real in the form of a doll or action hero or statue. Rococo takes the likeness one step further and offers the chance to see yourself or someone else as a literal sweet treat.
The process remains the same as other Mini-You incarnations. If you are in town or swinging by England, there is a chance to drop by and get a scan for optimal results. A detailed scan takes roughly 20 minutes to accomplish and is a short time considering the reward. If unable to make the trip for a scan, Mini-You recommends a soft flat background, preferably white, and three shots: front, left profile, right profile (as if being booked for stealing candy from a baby). Among other recommendations, Mini-You advises participants to avoid flash; dark flat colours; furry, shiny and highly reflective colours; and small repetitive patterns while extolling big patterns, textured fabrics and bright and neutral colours. The chocolate should be ready within a week.

Rococo and Mini-You are providing two options for their chocolate busts. One option is coin form and the package includes a pack of 4cm in diameter coins with the scanned or sent bust in a package of 15 for £99 or a larger bust chocolate at 5cm in packages of 6 or twelve at £99 and £169 respectively.
This is a fun gift for someone or to treat yourself from Rococo Chocolates, established in 1983. How could someone refuse you in chocolate form? It will most likely be the sweetest you have ever been.