Edible paper can be printed on 3D printer
21.02.2014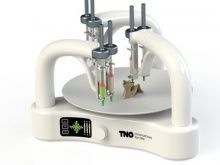 Last May space agency NASA has announced its new project - food printing technology using 3D printer. Recently first intermediate result was presented - video from Texas shows how bulky printer "prints" pizza.
There are other, mostly American scientists that also do research in this field. In particular, Cornell University develops Solid Freedom Fabrication Technology: printer is filled with hydrocolloids - edible gelatinous liquid that firstly can enriched with vitamins, amino acids etc., and secondly it can be mixed with different flavors additives. Thus, printer can "print" steaks, seafood, pasta, fruit and everything one can wish for. "It will be even tastier than real food!, - authors promise. - And imagine how much time can be saved on cooking!"
In this context we are most inspired by edible paper - chocolate and wafer, vegetable and fruit.