Electron beam melting as an industrial additive technology
16.11.2017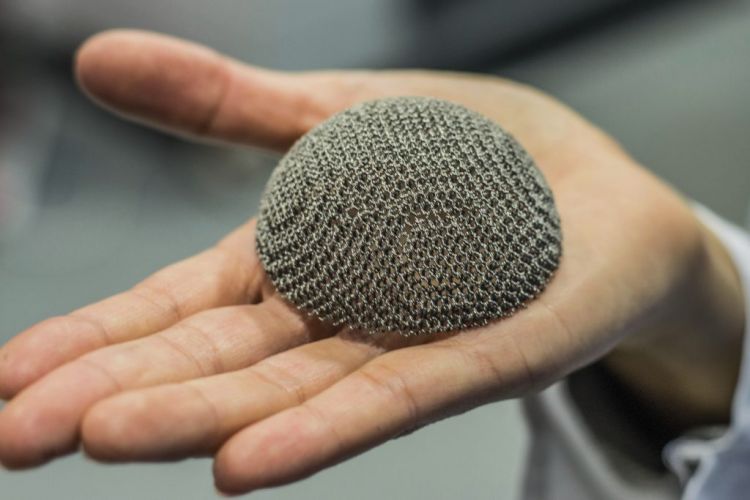 Electron beam melting (or electron-beam additive manufacturing, EBM) is a type of 3D printing, where metal powders made from titanium and cobalt alloys are used. EBM is one of industrial 3D printing techniques.
History and technology characteristics
This technology is based on another technique of three-dimensional printing, selective laser sintering (SLS). The difference is that instead of a laser, an electron beam is used for metal powders melting.
Electron beam melting was patented by Arcam AB company, which has a monopoly in the manufacture of devices and materials for this type of printing since 1997.

The EBM process can be divided into the following stages:
1. A digital 3D model of the required product is created and loaded into the device;
2. Once the printer is filled with raw materials, some metal powder is put in the powder bed, and then it will be distributed along its plane, using a roller;
3. According to the model, the electronic emitter (the so-called "electron gun") melts the necessary part of the raw material;
4. Then the finished part is lowered, and a new layer replaces it, and the procedure starts over;
5. When the product is finished, it is removed from the powder bed, and all the remaining raw materials are ready for reuse.

EBM products have a better resolution than the ones made using SLS.
Advantages and disadvantages of EBM
In addition to a more accurate microstructure of products (± 0.2 mm for a length of 100 mm), EBM printers have high printing speeds – 55-80 cm³/hr versus 2-20 cm³/h, which is available in similarly sized SLS devices.
The temperature in the powder bed is 700-1000 ° C. So all the parts of the construction remain heated during the printing process, and cool evenly after. This guarantees solidification of the parts, since no internal stress and shrinkage occur.
Other advantages would include the possibility of simultaneous printing of several parts, as well as a lower cost of equipment, since no expensive laser mirrors and lenses are used.
As for shortcomings of the technology, this include some roughness of the finished products and the need for an absorbing coating to control the X-rays, emitted during the electronic melting process.

Application of technology
Dozen countries use Arcam EBM printers. They have two main fields of application.
Aerospace. Durable and relatively lightweight parts made of titanium and its alloys are popular in aviation and cosmonautics. NASA, as well as corporations Boeing and Lockheed Martin use EBM for the manufacture of parts of engines and load-bearing structures.
Prosthetic repair. Prostheses and implants made using electron beam melting are considered to be accurate enough to use in medicine. And due to the high biocompatibility of titanium and cobalt, such prostheses are absolutely safe for the human body.
Consumable materials in EBM
Arcam AB produces also raw materials for its hardware devices. It is divided into two types, which are available in the form of a powder with granules measuring 45-100 microns:
titanium alloys Ti6Al4V and Ti6Al4V ELI;
cobalt alloy ASTM F75 CoCr.
Subscribe to the news of 3D Print Expo 2017 on Facebook and VK!